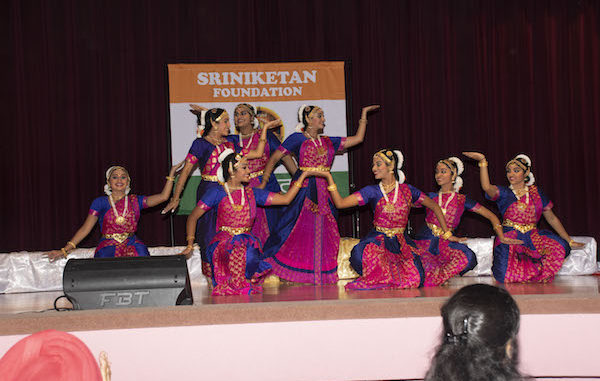 8-year-old students Thaarun and Tharuni Recite Shlokas at the opening Ceremony
NEW YORK(TIP): The performance by dozens of internationally  renowned artists at the International  Music Festival organized by Sri Niketan, a sister of the decades old Shikshayatan run by Purnima Desai, one of the best known promoters of Indian classical music and dance traditions, cast a soothing spell on the audiences who applauded the performances by music maestros and  dance performers.
The daylong  program at the Ganesha Temple auditorium  in Flushing, Queens was imaginatively crafted.
Opening ceremony was shloka recitation by 8 years old students Thaarun and Tharuni.
The morning session started with a renowned Odissi dancer Kaberi Sen who performed very graciously and left a great impression on the audience.  Kaberi ji's fist performance was Surya Pranam and the second was Anandi Pallavi. The music was composed by Anjan Saha and dance choreographed by herself. She ended the performance with Moksha.
After that Anjan Saha , a renowned Sitarist accompanied by top Tabla artist Amit Chatterjee gave a splendid  performance.  Anjan Saha sitarist: Alaap, Jod Vilambit Gat and Drut Gat in Teen Taal in Raag Sindhu Bhairavi followed by Jhala, then Dhun in Raag Mishra Pilu.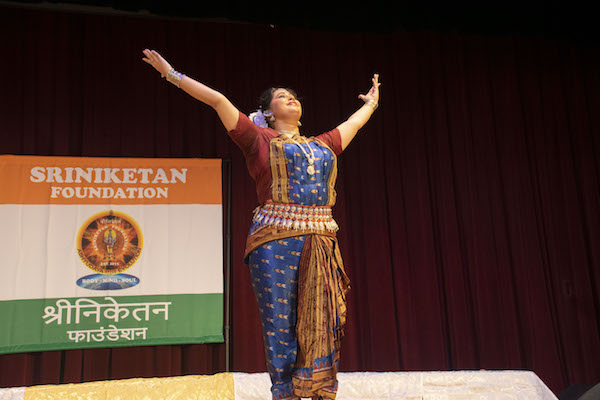 Biplab Mukherjee a,  top class vocalist sang classical and light songs in his sweet voice. He was accompanied by Anirban Chakraborty on harmonium and  Dibyarka Chatterjee on tabla.
Biplab Mukherjee sang Raga  Sudhha Sarang and Komal Aangi Kafi and Tarana and after that divine song. He totally mesmerized the audience with his melodious voice.
Part two , the afternoon session  saw  great sarod player Apratim Majumdar with Amit Chatterjee on Tabla give a stellar performance. Their Jugalbandi was unique which won applause from the  audience. Apratim Majumdar sang Raga Jatagi and Kirwani.
Pandit Sanjoy Banerjee accompanied by Namami Karmakar on harmonium sang  Raag Madhuwanti, Raag Kafi, and a  Meera Bhajan .
Sixteen  students from Chandrika Kurup , principal instructor and choreographer of  Noopura Institute of  Indian classical dance s, performed various classical dances of India like Bharathanatyam, Kuchipudi and Mohini Yattam. They stole the hearts of all with  their extraordinary performances. Their first performance was Pushpanjali;  second item was Shanmuga Kautuvam in which the dancers praise Lord Murugha. The third item was Neeradha in Mohini Yattam style and the fourth  was Tillana.
Abhik Mukherjee a well-known sitarist and Jay Gandhi on flute had the best Jugalbandi. In the third round . Abhik  Mukherjee and Jay Gandhir sang  Raaga  Puria Dhyaneshri.
Kankana Banerjee a very famous vocalist sang ragas accompanied by Dibyarka Chatterjee.  Kankana ji sang Raga Bageshri (par karo mori naiya prabhuji) in Vilambit Taal Jhumra followed by Drut  Teen Taal   ( guniyana aage sir jhukau)  and then a Meera Bhajan  (payoji maine ram ratan dhana payo.).  Kankana also sang a bhajan in Raga Bhairavi (maa bhavani dayani)  and she also sang another bhajan (araj suno mori banke bihari)  written and composed by her. She is a disciple of Ustad Amir Khan and Pandit Pratap Narayan.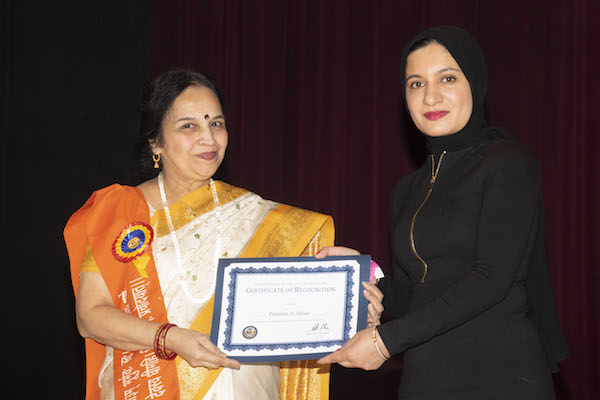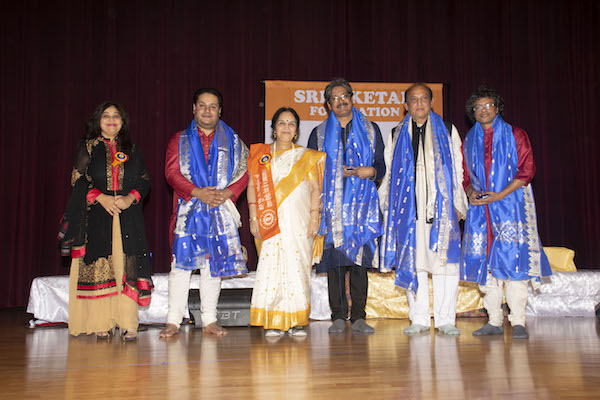 A Manipuri Dance  by Sanjib Bhattacharya with his troupe  mesmerized the audience. It was a creation of Guru Bipin Singh. Along with  Jagannath Leiranjam, Krishnakali Dasgupta and  3  local new students  presented Yugal Nartan, Kanduk Tanum, Pung Cholom, Radha Roop Varnan, Manjira Nnartan, Dhole Cholam, Geet Govind, Mridang Vadan. they showcased traditional Raslila, Pravandha, Festival and Sankirtan (drum-pung and dhol) tradition of Manipur.
The entire program was admired by one and all in the audience.  All artists were recognized for their extraordinary performances. The Sangeet Mahotsava will long be remembered  for the variety of artists and their soulful presentations.
(Based on a Press Release)