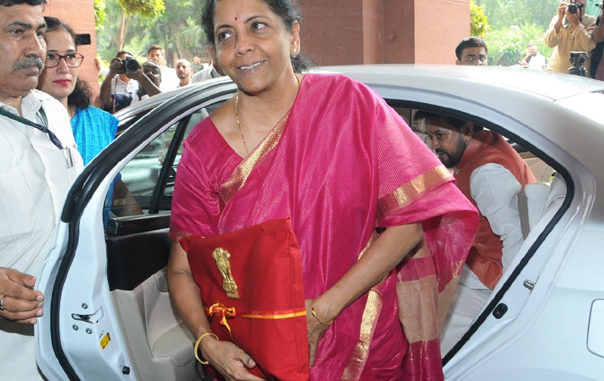 NEW DELHI (TIP): India's finance minister Nirmala Sitharaman presented the first budget of the second term of the Narendra Modi government on July 5.
This is also the maiden budget for Sitharaman, who becomes the second woman finance minister after Indira Gandhi to do so in the history of independent India.
"We need to make structural reforms to achieve USD 5 trillion economy in next few years. Indian economy was at USD 1.85 trillion five years back, reached USD 2.7 trillion now and within capacity to reach USD 5 trillion in next few years,"  said the FM.
BUDGET HIGHLIGHTS
*Focus on gaon, gareeb, kisan: FM
*By 2022, every single rural family except those who are unwilling to take the connection will have an electricity and a clean cooking facility.
*As world's 3rd largest aviation market, time ripe to enter aircraft financing and leasing from Indian shores: FM.
*Sitharaman said that public private partnership will be utilized to develop rail infrastructure. Railway infrastructure will require Rs 50 lakh crore till 2030 to develop. The FM said 657 km of metro rail network has become operational across country.
*Number of patents tripled during 2018-19, says Sitharaman
*We need to invest in infrastructure, digital economy and job creation in small and medium enterprises, says the FM
*India's economy will grow to become $3 trillion economy in current year; the sixth largest in world
*Recent election was charged with brimming hope for a bright and stable India, says FM presenting Budget
SITHARAMAN BREAKS TRADITION
Setting a new precedent, Sitharaman on July 5 was seen hugging the budget documents wrapped in a red cloth, the traditional 'bahi khaata' way, instead of the leather briefcase that until now her predecessors walked around with.
Chief Economic Advisor K. Subramanian said that it was a departure from "slavery of western tradition". The red cloth symbolizes the 'bahi khaata' traditionally used in every Indian business set up to maintain accounts.
Sitharaman was seen carrying the red cloth wrapped budget papers that was neatly bound with the auspicious yellow and red ribbon. The Lion Capital shone brightly on top of the bahi khaata, as the first-time Finance Minister walked out of the North Block.
Traditionally until now all former Finance Ministers have carried their Budget Document in a hardbound leather briefcase that takes after the parallel British custom.