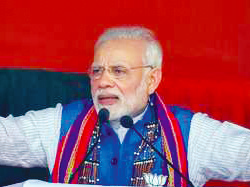 KOHIMA (TIP): Prime Minister Narendra Modi today expressed firm resolve that the "Act East Policy" would be made a reality to connect people of the North- East with South East Asian countries to ensure speedy development.
He emphasised that the development of the North-East was an essential component to realise the dream of a developed country. "Transformation of the region by transportation is being worked out to bring about faster development in the region," he said. Modi was addressing a poll rally at Tuensang Town public ground in Nagaland ahead of Assembly poll on February 27.
He affirmed that the BJP-led NDA government was committed to the transformation of Nagaland. "The dream of having a new India will go alongside the vision of the Naga people towards having a new Nagaland," he said.
"Unless the North-East is developed, the dream of having a developed country will not be achieved and, therefore, the BJP government is paying special attention to the requirement of the region," Modi said. "Connectivity is a huge challenge in Nagaland. We are working relentlessly towards it. In less than four years, we have added 500 km of national highways. We plan to invest over Rs 10,000 crore in roads in Nagaland," he said.