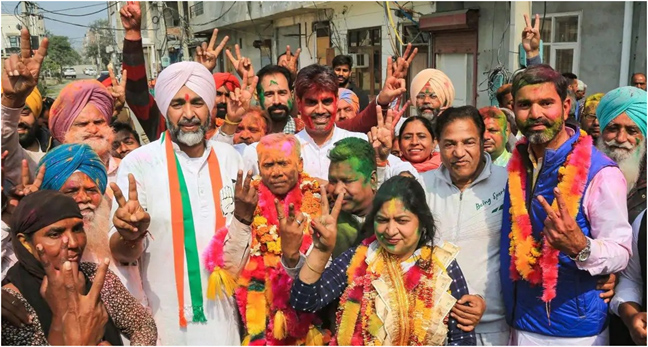 Bathinda (TIP): The ruling Congress swept the local body elections in Malwa, considered as the stronghold of the SAD. Post the alliance break-up, the BJP also performed poorly in the region. The Congress won in Bathinda, Mansa, Muktsar and Ferozepur in the Malwa region. It also did well in Faridkot and other districts.
In Bathinda, the home turf of former Union Minister Harsimrat Kaur Badal, the Congress won 43 seats while the SAD won seven out of the total 50 wards. This is the first time the Congress won a majority in the Bathinda MC. Hence, it will have its first mayor from here. The SAD managed to make a comeback only in some pockets.
In Moga, the Congress failed to win a majority on its own and was able to win 20 seats while the SAD won 15, Independents 10, AAP four and BJP one.
In Ferozepur, the home constituency of SAD president Sukhbir Singh Badal, the Congress made a clean sweep and grabbed the control of the MC for the first time. It also won in all wards in Zira and Guruharshai, while the SAD was able to retain wards in Mudki.
In Muktsar, out of 31 wards, the Congress won in 17, SAD 10, AAP two, BJP one and Independent one. In Malout, the Congress won in 14, SAD nine and Independents four. The Congress also did well in Sangrur district. In Longowal, out of total 15 seats, it won nine while the Independent won six seats. In Sunam, the Congress won 19 while the Independents won four seats.