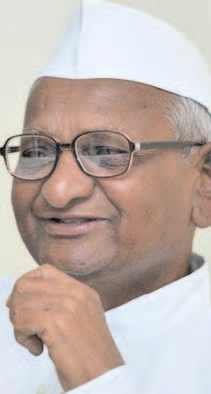 NEW DELHI (TIP): Social activist Anna Hazare, who has been critical of Prime Minister Narendra Modi, will be in Delhi on February 24 to participate in a farmers' rally being held to protest against the government's ordinance on land acquisition.
Sources close to Hazare said the social activist will address the dharna at Jantar Mantar. A few farmers' organisations from North India have joined hands to oppose the Land Acquisition Act. Activists Dr PV Rajgopal and Medha Patkar have launched the agitation.
Hazare is scheduled to join the dharna for a few hours and address the farmers. He is expected to return to Ralegan Siddhi next day after staying the night in Delhi, sources said.
This decision comes two days after Hazare's bitterly criticised Prime Minister Narendra Modi, holding him responsible for Bharatiya Janata Party's (BJP) debacle in the Delhi Assembly elections. He remarked that the Modi government had lost its credibility on the issue black money, land acquisition and anti-poor policies.
Though the sources add that Hazare has no any other engagements in Delhi, they have not ruled out a meeting with Delhi chief minister designate Arvind Kejriwal. Once a prominent member of Team Anna, Kejriwal is likely to meet him during his stay in the national capital.
Sources close to Hazare said he had a telephonic conversation with Kejriwal on the day the Assembly elections results were declared. Though he initially refused to attend phone calls from Kejriwal, Hazare spoke to him in the afternoon. The Delhi CM designate invited Hazare for swearing-in ceremony, but he refused to associate himself with any political outfit.
Team Anna will be back
Hazare has launched a fight against the Modi government on three issues – the Land Acquisition Act, black money and Lokpal Bill.
He had already expressed his displeasure for the government not taking any action on the Lokpal Bill, passed by the Parliament. He has written two letters to the PM in this regard. He has also announced to the re-launch of Team Anna to boost his efforts.