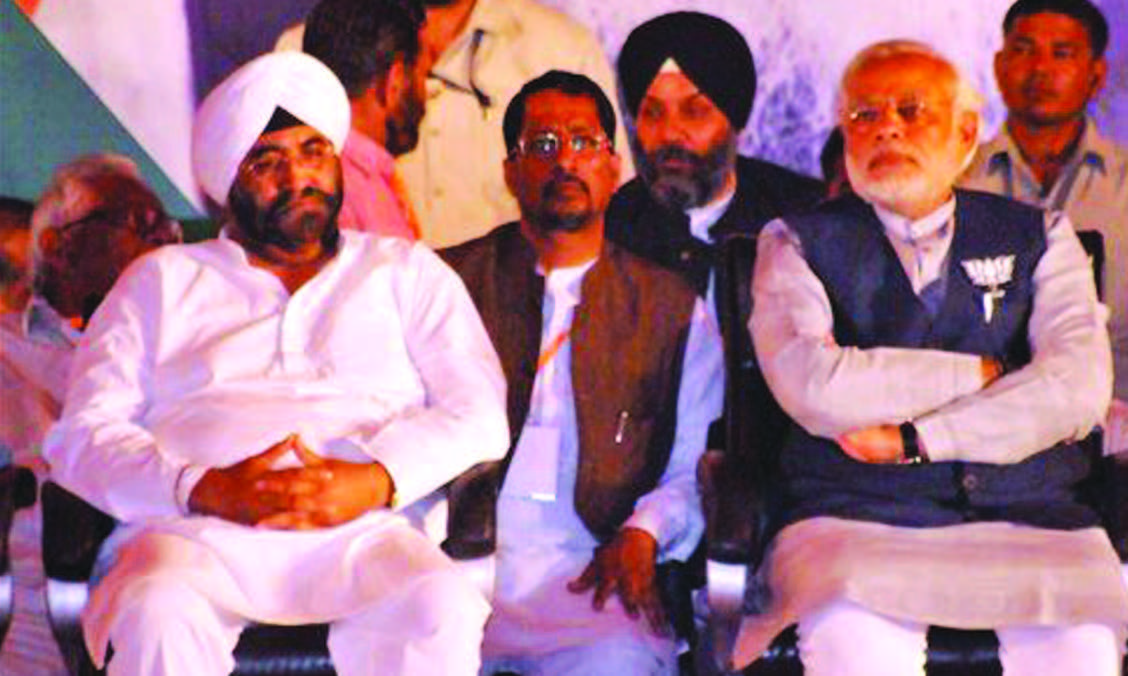 AMRITSAR (TIP): In a move that has left the Congress redfaced, the BJP on April 25 inducted Prime Minister Manmohan Singh's youngest brother Daljit Singh Kohli into the party. This was done at BJP's prime ministerial candidate Narendra Modi's rally organized to give the party's Amritsar Lok Sabha candidate and key strategist Arun Jaitley a final push ahead of the April 30 elections in Punjab.
Daljit said that he joined the BJP because he was upset at the manner in which his brother had been treated by the Congress and he said he was likely to contest elections on BJP's ticket soon. He has been a textile exporter in Amritsar for the past sixteen years. Modi gave a big hug to Daljit in front of thousands of people and said "Kohli joining the BJP has doubled our strength.
You should know we are not just a party of mere memberships; we are a party that believes in long lasting relationships. We now have blood relations with you". Modi has been exceptionally harsh on the prime minister in his recent speeches calling him a dummy of the Gandhi family. The prime minister on the other hand has said on Thursday that there is no Modi wave in the country. Sources in the Prime Minister's Office said the Singh family was surprised at this development.
The family said they didn't know his (Daljit's) motivations for joining the BJP while adding that he was free to pursue his own political affiliations. Daljit said he had decided to join the party because he liked Jaitley's vision. "I was very disappointed with the way my brother Dr saab had been sidelined and his policies were being ignored by his party".
He was aware that the PM had called Modi a mass murderer but refused to comment on the issue. He informed that DSGMC president Manjit Singh GK had introduced him to Jaitley five days ago and the second meeting with Jaitley took place on last Wednesday afternoon. Showering praises on Modi, Daljit added that Modi had the capacity to take all communities and parties together besides he expressed hope that Jaitley would have an important role to play if NDA comes to power.
He said,"My brother Manmohan Singh is an honest man, he served his country with full dedication and honesty but Congress leaders never gave him a free hand and instead interfered in his and his government's functioning". He said his joining the BJP would be for the betterment of Punjab. Punjab chief minister Parkash Singh Badal added that Kohli had joined the party after seeing the pitiable fate of his brother at the hands of Congress president Sonia Gandhi.
Reacting to the development, Manmohan's other younger brother Surjit Singh Kohli, who also lives in Amritsar, said he was heartbroken by what his sibling had done. "This is very unfortunate. Punjab deputy CM Sukhbir Singh Badal and revenue minister Bikram Singh Majithia could be behind this move. We had vowed never to leave the Congress". "Till Thursday morning there was no such inkling from him or his family. All of us brothers have had a cordial relationship for years," he added.
He said this was a very sad movement in his life. Meanwhile, Manjit Singh GK said, "There couldn't have been a better representative of Sikh community than Daljit as he was an extremely humble man from a religious Sikh family". Congress sources in Amritsar said that the party leaders were reluctant to comment on the issue without first studying the exact relationship of Daljit Singh to the prime minister and what led him to join the BJP.