Bidisha Roy
NEW JERSEY / NEW DELHI(TIP): New Jersey Governor Phil Murphy and the New Jersey delegation had action-packed days on their economic development mission to India. Governor Murphy, First Lady Tammy Murphy, Deputy Chief of Mission Edgard Kagan and NJEDA's Wesley Mathews met with Prime Minister Narendra Modi. They discussed Indian-New Jersey relations and their economic vision for the future. Working together, they can build a stronger and fairer future for both the people of New Jersey and India.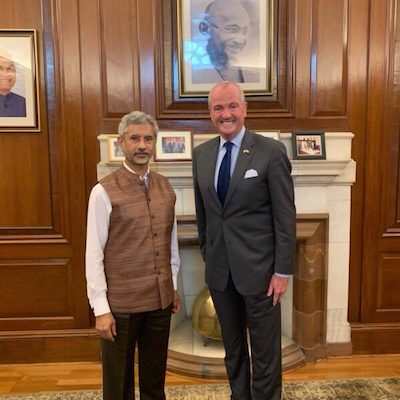 On Sept 17, he met with External Affairs Minister Dr. S. Jaishankar. "Proud to meet External Affairs Minister Dr. S. Jaishankar today to talk about the India-New Jersey relationship, based on our shared values of inclusivity, progress, and growth for all", Governor Murphy tweeted.
The opening of the New Jersey India Center in Gurugram kicked off Governor Murphy's seven-day, six-city economic mission trip to India. Governor Murphy is the first Governor in New Jersey history to visit India on official business. "Today's historic announcement charts a new course and effort to increase economic opportunities and build relationships between New Jersey and India," said Governor Murphy. "Expanding operations into India will further Choose New Jersey's goal to attract global businesses to New Jersey. With this new office, we will be able to bring our state's message of economic prosperity directly to India."
Governor Murphy, along with Edgard D. Kagan, Deputy Chief of Mission of the U.S. Embassy in New Delhi and Jose Lozano of Choose New Jersey, announced the opening of the Choose New Jersey India Centre with T&A Consulting. "My number one priority has been to foster an unrivalled economic ecosystem where innovative and game-changing companies – including Indian companies – can find a home and succeed," said Governor Murphy. "India can be one of our leading partners in New Jersey's re-emerging dominance in the global innovation economy, and New Jersey can be a leading partner in India's continued economic rise."
Choose New Jersey and VentureLink at NJIT signed an MOU with the National Association of Software and Services Companies (NASSCOM) to promote cross-border trade through innovation, investments and technology partnerships between New Jersey and India. Through this partnership, NASSCOM member companies considering expansion into New Jersey will be provided 90 days of complimentary space at VentureLink@NJIT's International Business Center while they explore opportunities to do business in New Jersey.
Governor Murphy and First Lady Tammy Murphy witnessed the signing of two MOUs with Princeton University to help promote the development of renewable energy, bringing us closer to a sustainable future. "Sustainability and fostering the transition away from fossil fuel-based energy and toward renewable sources is a future which all of us are committed to, and a future the actions taken today will help create," said Governor Murphy. One MOU will induct two Princeton University post-graduate/doctoral students to work on-site on clean energy research with ReNew Power – India's largest independent producer of renewable energy. The second MOU, between Princeton University's Andlinger Center for Energy and the IIT Delhi Centre of Excellence, will establish a collaboration on renewable energy and sustainability-related research.
Governor Murphy addressed the U.S.-India Business Council and the Federation of Indian Chambers of Commerce & Industry and made the case that India can be one of New Jersey's leading partners in the re-emergence of the state's dominance in the global innovation economy. New Jersey Economic Development Authority's Tim Sullivan highlighted opportunities for growth and partnership, including New Jersey's pharma, tech, and advanced manufacturing sectors – along with India's growing clean energy and film and media sectors.
First Lady Tammy Murphy met with the deputy head of UNICEF India and had a thought-provoking conversation on women and children's health issues and discussion of best practices. The First Lady learned about UNICEF India programs, which cover areas such as child protection, child marriage, adolescents, education, empowerment, and maternal health services. UNICEF India plays a critical role in supporting children and families, especially mothers. "I hope that our growing partnership between New Jersey and India helps us both learn how to better protect our children," said First Lady Tammy Murphy.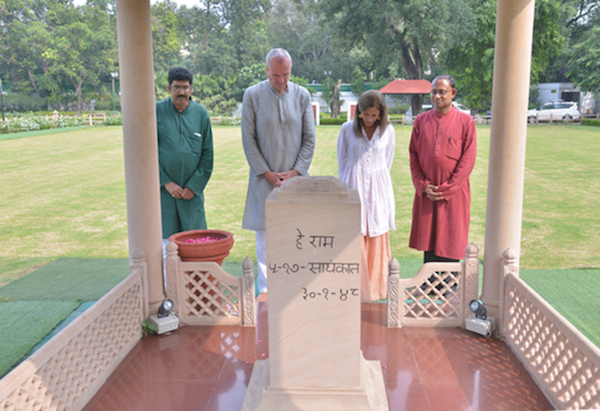 Governor Murphy and the New Jersey delegation toured historic and holy sites, including the Taj Mahal in Agra. Governor Murphy and the First Lady paid homage to Mahatma Gandhi, India's foremost freedom fighter. During a visit to Gandhi Smriti, they also penned a message in the visitor book. They were given a tour of the Jama Masjid. Located in central Delhi. Governor Murphy toured the Swaminarayan Akshardham Temple and expressed his deepest gratitude to His Holiness Mahant Swami Maharaj for his gracious welcome.
During his visit to the Southern State of Telangana, Governor Murphy signed first-ever sister state partnership.
"Great to be with @KTRofficethis morning as we signed our first-ever sister state partnership in India with the State of Telangana, creating and expanding partnerships in our IT, pharma, clean energy, education, and film sectors" he tweeted.
"By furthering clean energy cooperation between New Jersey and Telangana, we can build economies fit for the 21st century while protecting the best interests of our people and our environment. Grateful to@indianchamber15for convening this important discussion. #NJIndiaMission."
"Thrilled to announce an MOU between @THubHydand @NJITand to hear pitches from startups increasing their presence in NJ. We all win when we forge new partnerships and take a chance on new and world-changing ideas", Governor Murphy further tweeted.
In return, India's Consul General in New York Ambassador Sandeep Chakravorty thanked him. "Thanks @GovMurphyfor your personal commitment to strong relations with India. I am confident that the New Delhi office of @ChooseNJwill be its best", Amb Chakravorty tweeted.