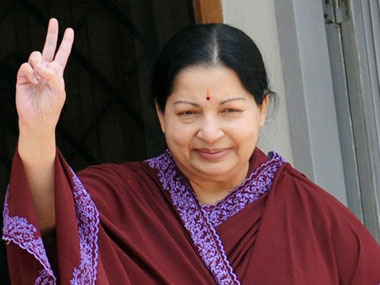 CHENNAI (TIP): AIADMK general secretary J Jayalalithaa's widely expected swearing-in as chief minister has reportedly been delayed over a possible appeal by Karnataka against her acquittal in a corruption case on May 11 and a few other reasons.
Senior AIADMK leaders said there were no hurdles within the party for her return as CM. "The governor has greeted Amma on her victory which means he will not hesitate to swear her in. But Amma is not in a hurry as we already have a government led by O Panneerselvam in place," said a senior leader.
Even four days after the Karnataka high court's favourable verdict, there is no official announcement about the convening of the meeting to elect Jayalalithaa as the legislature party leader and the subsequent swearing-in of a new cabinet under her leadership.
"We have not yet received any communication from our leadership on the MLAs' meeting. We are waiting in Chennai with anticipation," an AIADMK MLA from western Tamil Nadu said. Sources in the governor's office also said there was no official communication from the ruling party regarding the swearing-in ceremony of Jayalalithaa.
A senior minister who visited Jayalalithaa's Poes Garden residence on Wednesday said she only spoke to a selected group of ministers over intercom very briefly. Significantly, a Jaya TV unit which was deployed there returned without taking any visuals. Though the state secretariat has been hurriedly preparing for Jayalalithaa's return, senior officials are clueless about the possible day.
Meanwhile, opposition parties have started raising questions on her non-appearance in public. "It is a mystery that even so many days after the Karnataka high court delivered its verdict in the wealth case, Jayalalithaa has not showed up in public. Who is going to explain the mystery behind her non-appearance?" TNCC president EVKS Elangovan asked in a statement. "AIADMK celebrations lasted only for a few hours and now the cadres are stranded without any clue," he said.