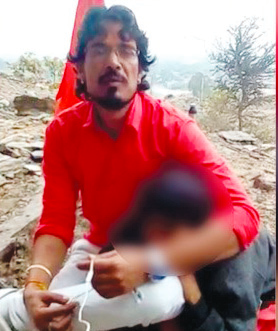 JAIPUR (TIP): In a shocking incident, a 50-year-old labourer was burnt alive and a video of the gruesome murder uploaded on the social media in Rajsamand district of Rajasthan, the police said. The alleged perpetrator, Shambunath Raigar, was arrested on Thursday even as the victim's family demanded death for the accused.
The victim, Mohammad Afrazul, belonged to Malda district of West Bengal, the police said.
Rajasthan Home Minister Gulab Chand Kataria has handed over the probe to a special investigation team (SIT). SP Manoj Kumar said the accused was being interrogated and that the police were keeping an eye on the law and order situation.
The murder was filmed by Shambunath's associate and uploaded on the social media. The video shows the perpetrator hitting the victim with an agricultural tool and then dousing him with kerosene before setting him afire in Raj Nagar. Raigar is then seen threatening those indulging in "love jihad". In another video, Raigar justifies the act, saying it was a bid to save a girl from "love jihad".
At victim's ramshackle home in Kaliachak, Malda, Afrazul's inconsolable mother said: "I spoke to my son in the morning before he was killed. I don't know why he was murdered. I have seen the video, the guilty should be punished."
The victim's eldest of the three daughters sought death for the accused. "Phansi, phansi, oke phansi dao" (hang, hang, the murderer must be hanged)," she said.
West Bengal Chief Minister Mamata Banerjee mourned the death of the sole breadwinner of the family. "How can people be so inhuman? Sad," she tweeted.
CPM's local functionaries visited Afrazul's home and met the bereaved family. "The CPM condemns the horrific killing of a migrant worker in the name of 'love jihad'. The killing is a result of the environment of hate and communalism fostered by Hindutva forces. RSS-BJP answerable for such shocking hate crimes," the CPM said in a statement.
In Kolkata, Union Home Minister Rajnath Singh seemed unaware of the incident when asked by the media. Mamata stepped in, saying: "You are asking a political question." Rajnath later abruptly wrapped up the press conference.
Kaliachak, victim's hometown, is a highly-sensitive area and has witnessed communal clashes in the past.