PM Modi in Lanka to re-emphasise traditional Buddhist connect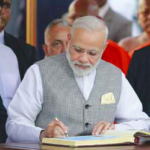 NEW DELHI/COLOMBO (TIP):Prime Minister Narendra Modi arrived in Colombo on May 11 on a two-day visit which is mainly aimed at reinforcing the traditional connect between India and Sri Lanka at a time when China is seeking to make inroads in the island nation.
Modi, on his second visit to Sri Lanka in two years, is here primarily to participate on Friday in the International Vesak Day celebrations, the biggest festival of Buddhists.
He will inaugurate a hospital built with India's assistance of Rs 150 crore. He will also address the Indian-origin Tamils against the backdrop of India's insistence that Sri Lanka should undertake devolution of power to the ethnic community as part of the reconciliation process.
Sri Lankan Prime Minister Ranil Wickremesinghe and several senior ministers, including foreign minister Mangala Samaraweera, were at the Colombo International Airport to receive the Indian Prime Minister.
"As Sri Lanka proudly celebrates #InternationalVesakDay, I warmly welcome Indian Premier @narendramodi who will grace the occasion," tweeted President Maithripala Srisena.
Modi was accorded a guard of honour by the Sri Lankan Air Force at the airport. The visit and the agenda is mainly to re-emphasise the traditional connect between India and Sri Lanka, particularly in the context of Buddhism, which is a shared heritage.
This assumes significance since China is aggressively trying to make inroads in Sri Lanka.