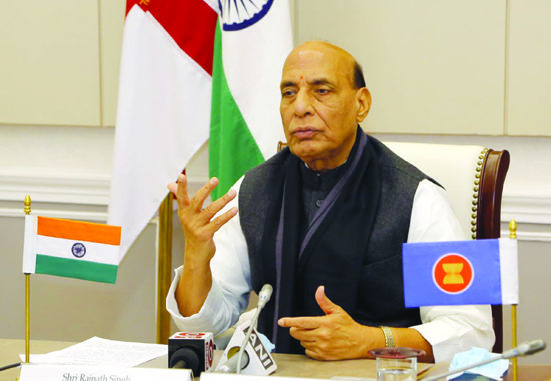 New Delhi (TIP): Defence Minister Rajnath Singh has, without naming China, emphasised India's call for an open and inclusive order in the Indo-Pacific, based on respect for sovereignty and territorial integrity of nations.
Rajnath was addressing the 14th Asean Defence Ministers' Meeting Plus (ADMM Plus) organised online at Hanoi, Vietnam, when he stressed on peaceful resolution of disputes through dialogue and adherence to international laws.
The minister reiterated India's support to freedom of navigation and overflight for all in international waters in accordance with the UN Convention on the Law of the Sea (UNCLOS).
Though Rajnath did not name China, it was evident he was referring to Beijing, which has lost a case in the UNCLOS about the demarcation of the South China Sea boundary.
He underlined the importance of mutual trust and confidence based on restraint in activities and actions that may further complicate the situation in the region.
The ADMM Plus is an annual meeting of the defence ministers of 10 Asean countries and eight partner nations.
Rajnath underlined the key role of Asean-centric forum in promoting dialogue and engagement towards a pluralistic, cooperative security order in Asia. He said terrorism remained a major scourge for the region and the world. Calling for stronger commitment to fight terrorism jointly and vigorously, he said the structures that supported and sustained terrorism continued to exist, including in India's neighbourhood.
Common efforts must for good ties, says Beijing
Underlining that common efforts were needed to maintain good relations between China and India, a senior Chinese official on Thursday said Beijing was committed to resolving the border standoff through dialogue, but was also determined to safeguard its territorial sovereignty.
Chinese foreign ministry spokesperson Hua Chunying said this while reacting to External Affairs Minister S Jaishankar's remarks that China had given India "five differing explanations" for deploying large forces at the Line of Actual Control (LAC) and the violation of bilateral pacts had "very significantly damaged" their relationship.