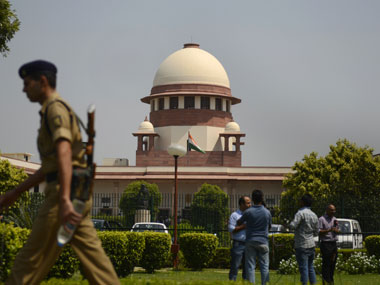 NEW DELHI (TIP): Amid raging controversy over authenticity of electronic voting machines (EVMs), the Supreme Court on April 13 issued notices to the Centre and the Election Commission on petitions alleging that EVMs can be easily hacked to favour a particular candidate or a political party. The petitions demanded paper trail on all EVMs.
A Bench headed by Justice J Chelameswar asked the NDA government and the EC to respond to the petition filed by the Bahujan Samaj Party and Samajwadi Party MLA Ataur Rehman by May 8, the next date of hearing.
After tasting poll defeat, BSP chief Mayawati and AAP convener and Delhi Chief Minister Arvind Kejriwal had alleged that EVMs were tampered with. The BSP alleged that large-scale tampering of EVMs helped the BJP to win the UP Assembly polls. The Congress and Trinamool Congress told the court that they, too, wanted to be heard in the matter.
"The views of technicians working in this field are important and not of what political parties say," the Bench told senior counsel P Chidambaram who appeared for both the BSP and Rehman. The Bench said EVMs were a remedy to several ills that plagued the voting system before it was introduced. Chidambaram pointed out that a 2013 verdict of the SC made it mandatory for the EC to install VVPAT. Despite the EC writing to the government 10 times since June last, including the Chief Election Commissioner's letter to the Prime Minister, the government didn't release funds for paper trail machines. "They need Rs 3,000 crore for having this system," he told the Bench.
He, however, chose to withdraw the BSP's prayer for deferring forthcoming elections until paper trail machines were made available after the Bench said it would not like to get drawn into political controversies.
On behalf of the Congress, senior counsel Kapil Sibal said EVMs were not used in any democracy, except a couple of countries in latin America. "But, this system was introduced when your party was in power," the Bench commented. Noting that it would not decide the issue on the basis of which country was using or not using it, the Bench said: "We would purely go on the basis of law and technical data."