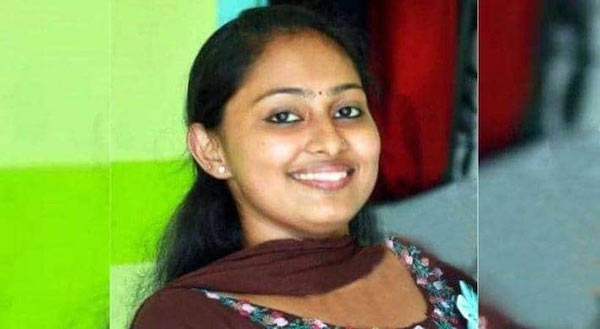 MIAMI, FL (TIP): Philip Mathew (Nevin), 34, of Wixom, Michigan has been arrested and charged in the murder of his Malayalee wife Merin Joy, 26. She was a nurse at Broad Health Coral Springs Hospital.
Merin died around 7:30 am on Tuesday, July 28 as she was returning to the parking area to return home after her night shift. At approximately 7:38 a.m., Coral Springs Dispatch received a 911 call from Broward Health Coral Springs, about a possible stabbing and hit and run in progress.  Once officers arrived on the scene, contact was made with the victim, Merin Joy, age 26, who was in the west parking lot with multiple stab wounds.  Rescue arrived on the scene and transported the victim to Broward Health North for treatment where she succumbed to her injuries and was pronounced dead at the hospital.
Coral Springs Police detectives conducted an investigation and determined the suspect to be Philip Mathew, age 34, of Wixon, Michigan. The incident is believed to be part of a domestic dispute that was ongoing between the suspect and the victim. Mathew was located in Coral Springs at an area hotel where he sustained a self-inflicted knife wound and was transported to an area hospital for treatment. He was taken into custody within a few hours of the initial 911 call and was charged with First Degree Murder.