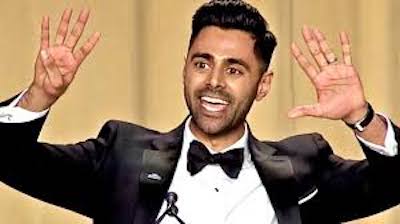 NEW YORK(TIP): The reputed Indian American comedian was quoted saying in one of his events in India "he is not afraid to take "big swings", and doesn't think "log kya kahenge", a Hindi phrase for "what will people say".
"I am very lucky. I am in an incredible privileged position as a comedian in America and we are given certain protection. Despite the problems that the country has, we are given these incredible privileges and protections," Hasan said.
"I know a lot of journalists, activists and performers around the world who don't get that. So, I just feel incredibly grateful for the opportunities that I have," Hasan said before the release of Lionsgate Films' "The Spy Who Dumped Me" in India.
He essays the role of Topher Duffer, a CIA Harvard alum in the movie — an action thriller, starring Mila Kunis and Kate McKinnon in comical roles. "And because I have those opportunities, I want to take big swings. I want to say things that I really feel about," he added when asked whether he thinks about the consequences before taking on big names on public platforms.
After doing some gigs, Hasan got his big break when he became a part of "The Daily Show". But he found worldwide fame with his "Homecoming King", debuted Off-Broadway in October 2015. He then recorded a version of that show in January 2017 for his first Netflix special.
Growing up in the US as a Muslim from Aligarh was a bumpy ride for Hasan. And he gave words to his story through "Homecoming King", filled with anecdotes of his struggle searching for his identity.
Hasan was also applauded for roasting Trump at White House Correspondents' Dinner last April, an event Trump had refused to attend.
He infuses a wide spectrum of issues to his stand-up acts, but says the content doesn't stem from an angry space.
"I just think in my performance style, I am not particularly angry. I try to come out from a really honest place. Even when people disagree with me (and express themselves) via internet comments or even in the streets, they are like 'Look, I don't agree with you or I don't like the show, but I don't dislike you. I see where you coming from'," he says.
"I can live with that and I think that is a far more nuanced way to have a dialogue, especially in these times," Hasan adds.
How does he look back at his struggle of finding a voice — and his own identity — in the country?
"I think it is one of those things where, for the longest time, one of my goals was to make it as a simulation of American comedians. Just do everything you can to fit in and try to relate it to the audience," said the star.
Looking back, he said: "In 'The Daily Show', Jon Stewart and Trevor Noah really push you to say what is your perspective and what is your take…That is the unique thing. That is the thing which breaks the chat.
"Once I realized that, I was like, 'Oh, actually being generic, trying to play everybody, isn't very good for comedy or storytelling'. So, I just doubled down to the things which I really believe in and are a part of my identity," he said.
Hasan wants to continue on the same path.
"That is the most interesting thing. I think the best feeling which I have as a performer, when I share the project, is when people in the audience say, 'I always felt that way' or 'Thank you for saying that' or 'You were able to put that in words'," he says.
"That means a lot to me. It is so cool that in the US comedian special I got to put the concept like 'log kya kahenge'," he adds.