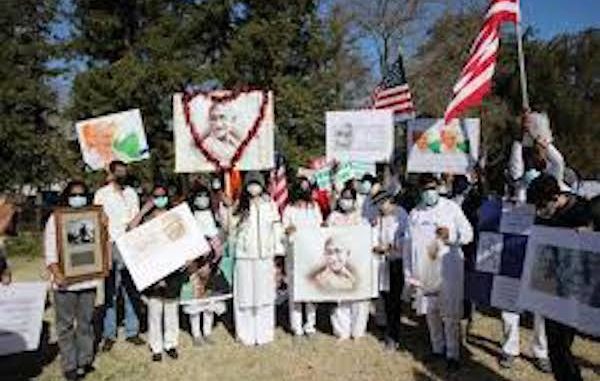 NEW YORK (TIP): In the wake of Indian American community's extraordinary success in the November election, prominent civic leader Frank Islam would like it to redouble it efforts to maintain and increase its participation in the political process.
The community's participation in the November election was "historically high" due "the presence of one of our own, Kamala Harris, as a Vice Presidential candidate," he noted in a keynote speech at an event to celebrate India's January 26 Republic Day.
"Today, in addition to Harris, a record number of Indian Americans are serving in the Biden administration," said Islam, entrepreneur, philanthropist and civic leader, at the virtual meeting organized by Indian Overseas Congress, Washington DC Chapter on Wednesday, Jan 27.
"On Day one of the Biden administration, nearly 20 Indian Americans began serving in various capacities", he said predicting "that number will continue to increase."
Talking about the emerging role that "Indian Americans are playing in the United States, in India and in the world", Islam, Azamgarh, India-born alumnus of Aligarh Muslim University, said, "In my half a century as an American, I have never experienced a moment like this."
"Our presence as Indian Americans goes beyond the executive branch," he said noting there are four Indian Americans in the US House of Representatives and more than a dozen in various statehouses across the country.
"There is only one reason for that." said Islam. "It is our increased participation in the political process and our empowering civic engagement."
"Now, having fought for and received a seat at the table, we should not rest on our laurels," he said. "We must redouble our efforts to maintain and increase our participation in the political process, starting with local politics."
"It is critical for us to be politically engaged not only as Indian Americans but also as responsible citizens of this nation," said Islam.
He expressed his firm belief that "engaging in political activities focused not just on winning elections but also on creating a common cause and a unified people are pivotal to the future of this democracy."
"All of us should be involved in those type of activities in order to ensure that we continue to build a more perfect union and develop this country in a way that benefits the many as opposed to the few," said Islam.
"Political engagement is one form of civic engagement that we should invest ourselves in to make our society and this nation a better place," he said.
"Political engagement is especially important because it can provide the lever for progress in other forms of engagement," Islam added.
Citing former presidents John F. Kennedy and Dwight Eisenhower, one Democrat and the other a Republican, he said, "While political engagement can be partisan in nature, to be responsible it must not be completely so."
"It must be bipartisan and subservient to civic engagement. Doing what is best for the country and its citizens must be more important than blind loyalty or allegiance to a political party," Islam said.
"This is why I urge each of you to stay politically and civically engaged. And I ask you to take your participation and activism to the next level."
Paying tribute to the Constitution of India, Islam described it as "an extraordinary document that captured the spirit of India and delineated the path forward for the nation."
Noting the similarities between the US and Indian Constitutions, he said, "The beauty of the document is that, although it is considered a living document, as it can be amended or modified easily, many of the basic principles enshrined in it have been accepted as inalienable human rights."
"But our recent history has proven that laws and principles are only as good as the institutions and people that guard and implement them," Islam said.
"Nowhere has this been more apparent than in our own country, the United States," he said noting that the US "just emerged from such a dark and sad chapter in our history" after "witnessing a transfer of power that was far from peaceful."
"The good news is that even though the country remains deeply divided politically, our democracy remains intact," Islam said.
"It is intact because our institutions are strong. And, because many leaders, both Republicans and Democrats "stood united to protect and defend that constitution," he said.
Islam also fondly recalled his visit to India in 2015, as part of the US delegation accompanying President Barack Obama, the first and only US President to attend a Republic Day event as the guest of honor.
"As an Indian American, watching the ceremonial parade on Rajpath was a proud and humbling moment for me," he said.
Sam Pitroda, the global chairman of Indian Overseas Congress, emphasized the need to strengthen the secular forces in India.
Mohinder Singh Gilzian, the president of IOC USA and George Abraham, Vice Chairman, IOC, USA also addressed the gathering.
The program included several patriotic songs. Johnson Myalil, the president of the Washington DC Chapter, welcomed the gathering.
Secretary Vipin Raj proposed the vote of thanks. Mohamed Thahir, program chair of the DC Chapter, served as the Master of Ceremony.