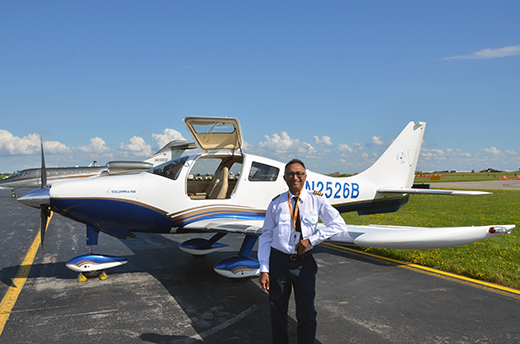 NEW YORK (TIP): On July 4, Ravinder K. Bansal, a retired entrepreneur of Indian origin, will embark on a solo flight around the world in a single-engine Cessna 400 to raise money for a hospital in Haryana. He hopes to raise $750,000 to purchase an MRI machine for a hospital in his hometown Ambala.
The 100-bed hospital Rotary Ambala Cancer and General Hospital has been built with donations from philanthropists both in the US and India. The contribution is also a tribute to his elder brother Subhash Bansal's wife, Sneh Bansal, who died of cancer in India, in 2005.
"I am excited to start my round the world trip from Buffalo Niagara International Airport on July the 4th. This mission for me is very personal as it not only is an adventure that I have been dreaming about for a while, but will also get the hospital a needed piece of MRI equipment now and help bring awareness about cancer in rural community around Ambala. Above all, it will generate publicity for the hospital that will hopefully continue to bring donations/support from the local and international community and Rotarians to keep the hospital operating and growing in future", Bansal wrote in his blog.
Ravi Bansal, a resident of Buffalo, New York, is the pilot/owner of Cessna 400. The Cessna 400 is the fastest FAA-certified fixed-gear, single-engine piston aircraft in production today, reaching a speed of 235 knots (435 km/h) true air speed at 25,000 feet (7,600 m).  The 19,878-mile trip will have several stops in different countries including England, France, Italy, Greece, Jordan, UAE, Oman, and India while going; and while returning Bansal would come via Thailand, Malaysia, Philippines, Japan, Russia, and Canada.