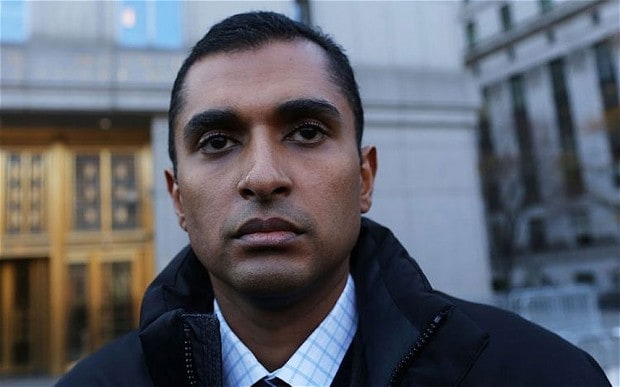 NEW YORK (TIP): A federal appeals panel upheld on August 23 the insider trading conviction of Mathew Martoma, a former portfolio manager for Steven A. Cohen, rejecting his claims that there was inadequate evidence of guilt and that the jury instructions were defective. The Indian American is currently serving a nine-year prison sentence. As a former portfolio manager at S.A.C. Capital Advisors, a Stamford, Connecticut-based hedge fund, he was accused of generating possibly the largest single insider trading transaction profit in history.
Martoma, was convicted on charges that he used confidential information related to a clinical trial for an experimental Alzheimer's drug to make stock trades that reaped $275 million. The Martoma case was among the most prominent prosecutions brought by Indian American Preet Bharara, then the United States attorney in Manhattan.
 "We are gratified by the Second Circuit's affirmation of Mathew Martoma's conviction.  The strength of our securities markets rests on their integrity and fairness.  And the successful prosecution of those who cheat by trading on illegally obtained inside information, as Martoma did to the tune of over $275 million, is critical to maintaining that integrity and fairness in our markets", Joon H. Kim, the acting United States attorney in Manhattan, said in a statement.
According to the criminal complaint filed by the U.S. Department of Justice, Martoma allegedly advised to sell shares of pharmaceutical companies Wyeth and Elan Corporation based on tips from Steven A. Cohen two doctors, including Sid Gilman of the University of Michigan, about the Alzheimer's disease drug bapineuzumab during clinical trials overseen by the FDA. Martoma pleaded not guilty to formal charges of securities fraud, two counts, and conspiracy which resulted in $276 million in profits for SAC Capital in 2008. The insider trading trial began on January 9, 2014 in the United States District Court for the Southern District of New York. On February 6, 2014, Martoma was found guilty on all charges. On September 8, 2014, Martoma was sentenced to 9 years in prison.