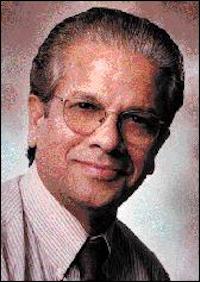 MORGANTOWN, WV (TIP):  Morgantown resident Indian American ophthalmologist Dr. V.K. Raju was recently honored with a lifetime achievement award
Dr. V.K. Raju was bestowed the honor – the President's Award for Lifetime Achievement- during the 2017 West Virginia State Medical Association Healthcare Summit earlier in August. The inaugural award recognized him for his WVMSA president Dr. Rahul Gupta said of Raju.  according to information received.
WVMSA president Dr. Rahul Gupta said of Dr.  Raju: "He continues to have a meaningful impact on the lives of scores of individuals across the globe by helping eliminate blindness and positively impacting the rural and remote areas of developing countries where there is no medical care or where the cost of medical is prohibitive,"
Raju prides himself in his innovational and outstanding dedication to patient care, according to his website.
He received his medical degree at Andhra University in India, then traveled to the University of London to complete an ophthalmology residency and fellowship. In the U.S., Raju completed an anterior segment surgery fellowship at Louisiana State University.
Dr. Raju currently serves as a clinical professor of ophthalmology at West Virginia University where he has been teaching since 1976.
Earlier, Raju spent two years teaching at the Royal Eye Hospital of London. He is also the director of the International Ocular Surface Society, the director of the Ocular Surface Research and Education Foundation, and the medical director and past president of the Eye Foundation of America.
Additionally, Raju is a participant in the Eye Relief Project under which he travels periodically to India and other developing countries to volunteer his surgical services and teach advances in ophthalmology.
Coming October 27, Dr. V.K. Raju will be honored with a lifetime achievement award by the Rotary Club at Vijayawada in India.