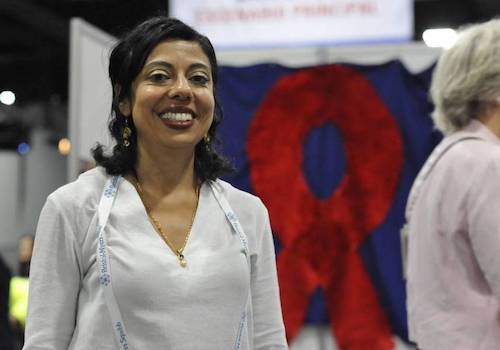 SAN FRANCISCO, CA (TIP): Indian American Physician Monica Gandhi, MD, MPH, of the University of California, San Francisco (UCSF) was honored by the HIV Medicine Association (HIVMA) with 2017 association award, presented at IDWeek 2017 which took place Oct 4-8 in San Diego.
Raphael J. Landovitz, MD, MSc, of the University of California, Los Angeles (UCLA) was also honored.
"These leaders are making significant and lasting contributions to HIV medicine," said Wendy Armstrong, MD, HIVMA chair. "The HIV Medicine Association is proud to recognize Drs. Gandhi and Landovitz."
Dr. Gandhi received the 2017 HIVMA Clinical Educator Award, which recognizes those who have demonstrated significant achievement in the area of clinical care and provider education. Dr. Gandhi is an internationally recognized clinician and educator who has woven teaching and mentoring into all aspects of her work.
As medical director of the Ward 86 HIV Clinic at UCSF, a safety-net clinic and hospital, Dr. Gandhi oversees care for more than 2,800 HIV-infected and at-risk patients including urban poor, homeless, women, racial and ethnic minorities and immigrants – people who often are difficult to engage and retain but who greatly need high-quality medical care.
Her teaching is tightly linked to these settings and these populations, combining the scientific aspects of medical knowledge with the real-world practicality she's gained from working with challenging populations in challenging settings. Truly excited to see students and trainees learn, whether during a "chalk talk" or a bedside discussion, Dr. Gandhi consistently receives outstanding teaching reviews, and many students and residents return for HIV electives or clinical rotations based on their previous work with her. Formerly the division education director, Dr. Gandhi is now associate division chief and assistant director of UCSF's ID fellowship program, where she has developed a robust formal curriculum and led the longitudinal outpatient clinic training of ID and HIV fellows in the Ward 86 clinic.
Supported by an National Institutes of Health (NIH) grant, Dr. Gandhi has developed a mentoring program for early career investigators of diversity and a "Mentoring the Mentors" national workshop series for midcareer and senior HIV investigators, where they learn specialized techniques and tools of effective mentoring. She has led trainings in the United States, Peru, Kenya, India and South Africa supported by funding from the Fogarty International Center.
Gandhi has received many awards for her compassionate clinical work, including the UCSF Meg Newman Teaching Award, the Sarlo Award for Teaching Excellence from UCSF's AIDS Research Institute, and the Defender of Humanity Award and Clinical Teaching Award from ID fellows.