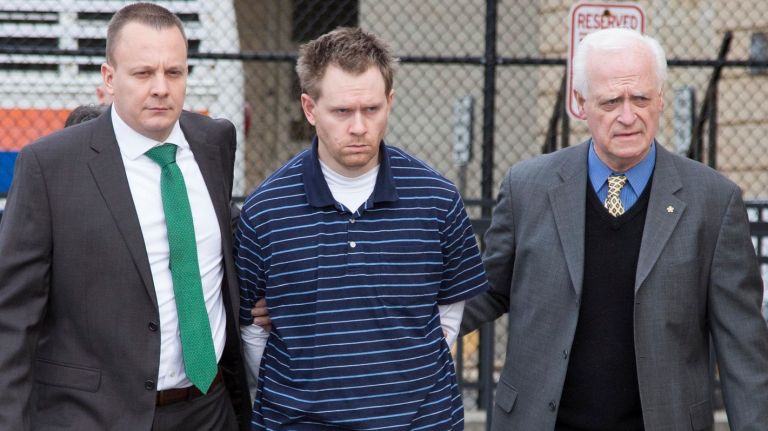 "How many more have to die this way before the Legislature will act?" asked Nassau County District Attorney Madeline Singas
MINEOLA, NY (TIP): Nassau County Police announced December 23 that the suspected killer of Taranjit Kaur Parmar had been arrested and that he will be arraigned on December 24.
On December 24, Nassau County Police held a press conference to announce the arrest and the arraignment of Daniel Coppolo, 31 of Kinsella Street, Deer Park, New York.
D/Lt. Fitzpatrick of Homicide Squad recounted that Taranjit K Parmar, 18 of Levittown was on November 9, operating a 2018 Jeep traveling eastbound on Hempstead Turnpike when she was struck by a red pickup truck, traveling northbound, attempting to turn eastbound on Hempstead Turnpike in the vicinity of Gardiners Lane. After the minor collision- a fender bender – both operators immediately pulled off the roadway at 3300 Hempstead Turnpike. While the victim was out of her vehicle, the suspect fled the scene striking Taranjit and running her over.
Fitzpatrick also spoke about how Coppolo was arrested. He said," Investigators did not have far to look once they determined Coppolo was their suspect: He was being held in the Nassau County jail on an unrelated robbery charge.
"On Dec. 23, Daniel was released from the jail. We were there to arrest him," Fitzpatrick said.
Detectives determined Coppolo was a suspect in Parmar's death through witness testimony, video from nearby cameras, and tips from the public. They also scoured motor vehicle records for a red late-model pickup truck, Fitzpatrick said. Detectives identified Coppolo's red 2013 Toyota Tacoma pickup by decals and lights on the vehicle, and obtained a court order to impound and search the truck on Nov. 16.
Nassau County Acting Police Commissioner Patrick Ryder said the investigators received 50 tips about the crime and did a great job to identify the suspect.
Speaking at the press conference, Ranjit Parmar, father of Taranjit Kaur appreciated the Homicide department of Nassau County Police who, he said, had worked tirelessly to piece together the case which led to arrest of the suspect. "It makes us feel good that so many people were involved in this investigation," Ranjit Parmar said. Later, he told The Indian Panorama that he was satisfied with the investigation.
Speaking on the occasion, Nassau County District Attorney Madeline Singas, apart from giving details of the case and the story of investigation done exhorted the Legislature to come up with measures to prevent loss of life in such cases. She said, "How many more have to die this way before legislature acts?"
Coppolo was charged with Manslaughter 2nd degree, Leaving the Scene of an Accident with Death, Tampering with Physical Evidence, and Reckless Endangerment 2nd degree.
Coppolo faces up to 26 years in prison if convicted of the charges, Coppolo was arraigned, December 24 in the court of Judge Eileen J Goggin. Coppolo pleaded not guilty to the charges.
Judge Eileen Goggin set bail at $1 million bond or $600,000 cash, more than the prosecutors had asked for, citing previous contacts with police and the seriousness of the charges.
Coppolo's attorney, Lawrence V. Carrà of Mineola, told Goggin his client had been on psychiatric medical leave from the New York City Fire Department for three months. Carrà said Coppolo suffers from manic depression and does not always take his medication. Carrà asked for bail to be set at $25,000 and for mental health treatment for his client.
But Parmar's attorney Brian R. Gunn of Garden City said the bail was appropriate "given the serious nature of the charges as well as the relatively young defendant's past criminal history."
Cuppolo has a criminal record. He was arrested for DWI in 2016 and, in another case, was charged with attempted robbery at a Target Store.
A criminal charge is an accusation. A defendant is presumed innocent until and unless proven guilty.