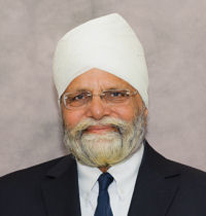 LONDON (TIP): An Indian-origin Sikh councilor has made history after being appointed as the new Lord Mayor of Coventry, a city in the West Midlands, England.
As a Lord Mayor, Punjab-born Jaswant Singh Birdi will be the Chairman of the City Council, and as Coventry's first citizen, he will be the non-political, ceremonial head of the city.
"I am so proud to become Lord Mayor of my adopted home city. It has given so much to myself and my family over the years and I will be honored to show why I love it so much and to promote the city and the wonderful people who live here," Birdi said in a statement.
Birdi was presented with the Chains of Office, worn as an official regalia by the Mayor, at an annual general meeting of Coventry Cathedral last week.
"As a Sikh, it also means so much that I will be wearing the Chains of Office and the turban. It will help show what a happy multi-cultural city we have and maybe inspire others as well," he said.
Born in Punjab, Birdi moved to Coventry 60 years ago and has spent 17 years as a councilor in the city, representing Bablake Ward for the past nine years, following two terms of office in the 1990s in the Hillfields Ward. After having served as Deputy Lord Mayor for the past 12 months, he succeeds Councilor Kevin Maton in the role. He grew up in a village in the Indian part of Punjab and also spent time as a child in Lahore and West Bengal, as his family travelled for employment.
In the mid-1950s Birdi emigrated with his parents to Kenya in East Africa, where he had his primary and secondary education, and emigrated to the UK in the 60s to carry on with his further education.
Apart from being a councilor, he has been actively involved in setting up religious, social and community projects in the city.
He has named his chosen charities for the year as the Muscular Dystrophy charity, the Coventry Resource Centre for the Blind, and University Hospitals Coventry and Warwickshire Charity.