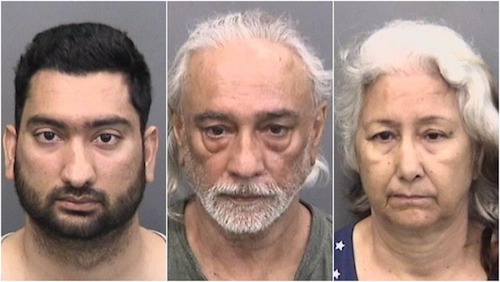 TAMPA, FL (TIP): An Indian woman in Florida was rescued on Sept 2 after the authorities received a call from India that she was beaten and held against her will by her husband and his parents. According to reports, 33-year-old Silky Gaind, was found "badly beaten and bruised over her entire body" from beatings by her husband Devbir Kalsi and his parents. Police has arrested Devbir, his father, Jasbir Kalsi, 67, and mother, Bhupinder Kalsi, 61. Gaind and her 1-year-old child, who was found unharmed, have been moved to a safe place, according to the Sheriff's Office.
According to investigation report, the parents had traveled from India to "counsel and discipline" Gaind at their son's request. Devbir Kalsi had told his parents that his wife was being disobedient. While beatings by her husband continued, Gaind was held against her will by his parents. The Hillsborough County Sheriff's office said Gaind called her parents in India on Saturday, Sept 2 to tell them of the abuse. They then called authorities.
According to an arrest report, Devbir Kalsi and his wife got into an argument on Friday night, during which he struck her "repeatedly and forcefully." When the woman tried to defend herself, Devbir Kalsi's parents began hitting her, too, causing bruises on her face, neck and torso before Jasbir Kalsi threatened to stab her with a kitchen knife, the report said.
Deputies arrived about 6:30 a.m. Saturday at their home but nobody opened the door after repeated knocks. Gaind tried to open the door and "screamed for the deputy to save her and her child," the Sheriff's Office said. A deputy then forced the door open to find Devbir. When Devbir tried to push the door closed, the deputy began arresting him before being confronted by his parents.
Both Devbir and Jasbir Kalsi face charges of false imprisonment, child abuse and denying access to 911. Devbir Kalsi faces an additional charge of felony battery, and Jasbir Kalsi is accused of aggravated battery with a deadly weapon. Bhupinder Kalsi faces charges of battery domestic violence and failure to report child abuse.