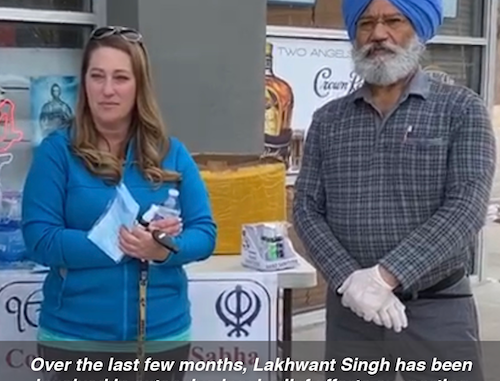 DENVER (TIP): Jefferson County District Attorney's Office has decided to add a hate crime charge against Eric Breemen for attacking Mr. Lakhwant Singh. Moving forward, Breemen will be charged with multiple counts–now including a bias-motivated crime–in the violent April 29 assault of Mr. Singh.
"I am so very grateful to everyone–Sikhs and non-Sikhs alike, from Lakewood, elsewhere in Colorado, across the country, and beyond–who have stood with me and my family in this incredibly difficult time," said Lakwhant Singh. "I appreciate the Jefferson County authorities hearing my story and, through these charges, recognizing the role that hate played in my horrible attack."
Nearly three months ago, Breemen verbally accosted Mr. Singh and his wife in their store in Lakewood, CO, repeatedly telling them both to "go back to your country." Immediately afterwards, in the parking lot outside the store, Breemen struck Mr. Singh with his car and left him for dead; he later described Mr. Singh as an "older Arab" to the officers who arrested him.
"The decision to add a bias-motivated charge against Breemen is a resounding victory not just for Mr. Singh, but for minority communities who are threatened by bias and bigotry every day," said Amrith Kaur, Sikh Coalition Legal Director. "Adding these charges sends a clear message: Hatred is not welcome in Jefferson County, and those who are targeted for being different know that this community will acknowledge it and stand with them in solidarity."
The Sikh Coalition, along with support from local community members–including the leadership of Colorado Singh Sahba and the Colorado Coalition Against Hate–as well as the law firm of WilmerHale, has worked diligently over the past several weeks to push for the addition of this hate crime charge. Through these efforts, more than 2,600 people sent emails to Jefferson County District Attorney Peter Weir urging him to pursue a hate crime charge; in addition, 29 organizations joined a sign-on letter earlier this month urging for the same, and many others  signed and delivered additional petitions from across the world.  We extend our deep gratitude to all of the allies who came together to demand #JusticeForLakhwant.
The Sikh Coalition also helped raise awareness for this case through successful media coverage from the local to the national levels. We will continue to provide updates in this case and also work with Colorado authorities to minimize the risk of future attacks.