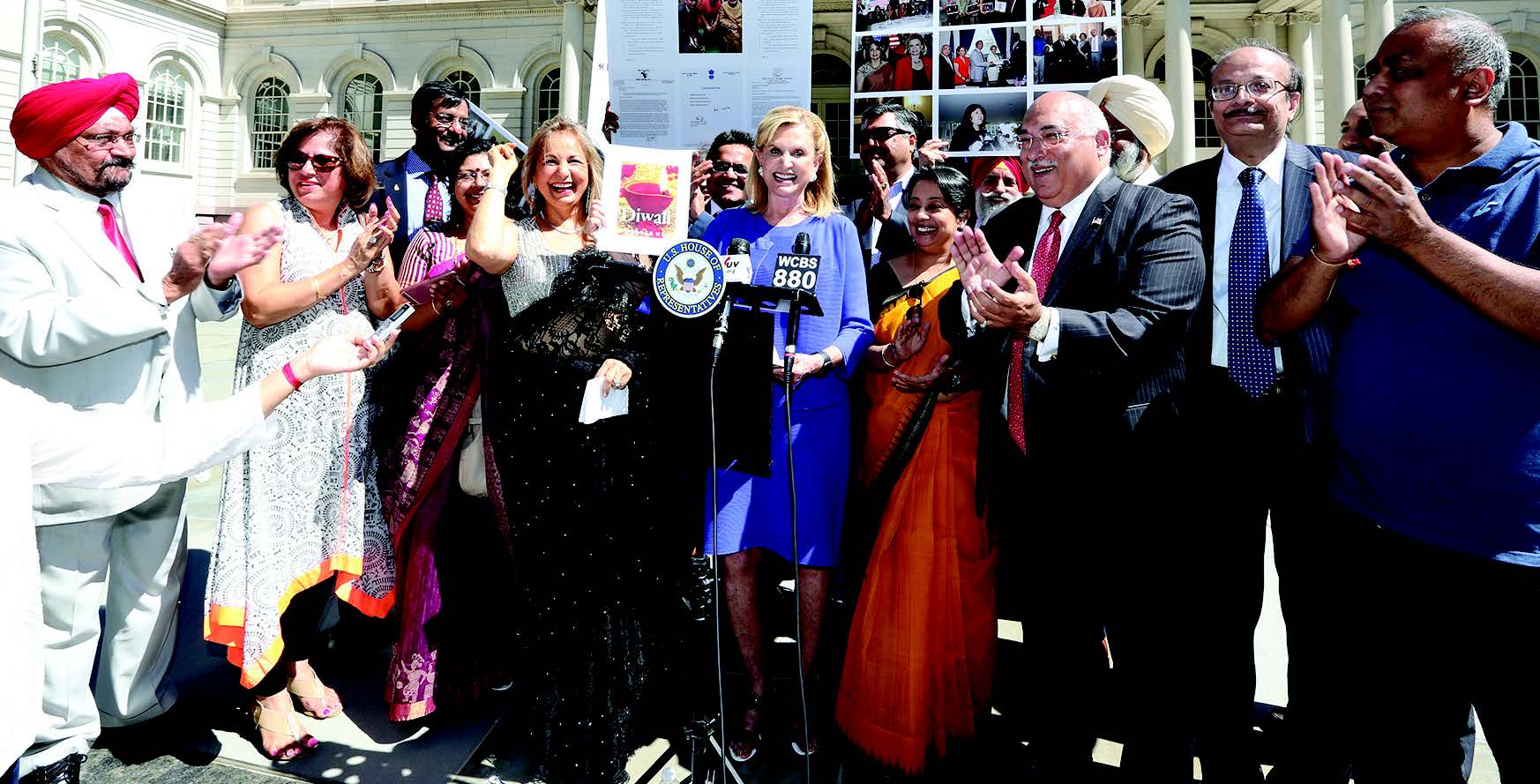 NEW YORK CITY (TIP): What gift could have been better than the US magnanimously offering a Diwali Commemorative Stamp?
The gift hasn't come easily. It took a seven- year relentless effort by Ranju Batra, Chairperson of Diwali Stamp Project to have it for 1.25 billion Indians and for 4 million Indian Americans. Not that she could do it alone. The most important person who made it possible, besides Ranju Batra, is her Congresswoman friend Carolyn Maloney who, in 2013 January introduced in Congress a resolution -HR 47- for a Diwali commemorative stamp. She was supported by her many colleagues which included Congressman Ami Bera and Congresswoman Grace Meng, besides others. Let me come to that story later.
It was a beautiful Tuesday, August 23 morning, in sync with the cheerful occasion, when Representative Carolyn Maloney and Ranju Batra announced from the City Hall steps to a gathering of Indian Americans and the media that the USPS Diwali stamp had become a reality.
Speaking on the occasion, Carolyn Maloney congratulated the Indian diaspora on the achievement. Appreciating the relentless effort put in by Ranju Batra and her husband Ravi Batra who has always been very supportive of his wife in the seven-year marathon to secure the Diwali commemorative stamp, Carolyn said "Diwali has finally joined Christmas, Kwanzaa, Hanukkah and Eid, with its own stamp." On the occasion, Carolyn recited the short poem former Consul General Dnyaneshwar Mulay had composed for Diwali Stamp:
"Brighten up the world
Light up the nearest lamp
Stamp out clouds of darkness
Bring in the Diwali Stamp".
Ranju Batra, apparently overwhelmed, spoke about the long haul of 7 years to have the Diwali stamp issued. She said while she was serving as Cultural Chair at AIA-NY she decided to "focus and get the Diwali stamp issued".
Ranju Batra said she knew "that to get Diwali stamp issued, "grassroots effort" alone was not enough-for many before had tried and given up. I needed hardworking national political leader to lead-and our dear friend-Congresswoman Carolyn Maloney agreed to provide that vital national leadership- while I continued with the grassroots effort with all community leaders-many present here today".
Narrating the story at length, Ranju recalled that "true to her word, Carolyn Maloney introduced House Resolution 47 on January 25, 2013 calling upon Citizens' Stamp Advisory Committee of the United States Postal Service to issue a Diwali Stamp.
Representatives Ami Bera and Grace Meng also lent their support. With the help of community leaders paper petitions were collected and submitted while in Washington DC, Congresswoman Maloney worked relentlessly to push USPS at every turn to issue the Stamp.
On January 14, 2015, Maloney introduced House Resolution 32. When Prime Minister Narendra Modi came to New York for the UN General Assembly session Ranju and Maloney met him and urged him to use his good offices with President Obama to have the Diwali stamp issued. Ravi Batra and Ranju wrote letters to President Obama requesting for Diwali Stamp. Ravi, in his letter, cited the "Equal Protection Clause of the Constitution".
An ecstatic Ranju announced, amid cheers," The time is now. … India's 1.2 billion people, represented here by the dynamic Ambassador Riva Ganguly Das, along with almost 4 million Indian Americans yearn for such inclusive recognition, and issuing the Diwali stamp will help USPS' bottom line. Diwali's "Light over Darkness" – is intellectual, emotional and financial".
A happy ending, in deed, to a seven- year long journey.
Speaking on the occasion, Consul General Riva Ganguly Das said the Diwali Stamp was a great gift to the Indian American community just a few weeks before Diwali which the community enthusiastically celebrates. She thanked Congresswoman Carolyn Maloney and her colleagues for their valuable support in making it possible to have the Stamp issued. She congratulated Ranju Batra for her perseverance in the face of setbacks and succeeded in obtaining for not only the Indian American community but for people of India a great Diwali gift.
Ravi Batra played the master of ceremonies.