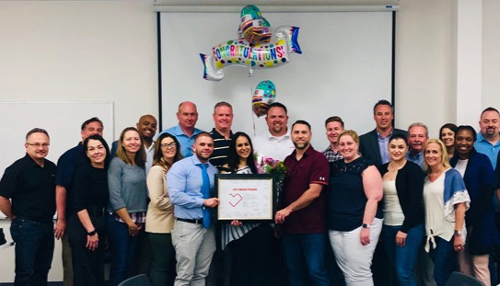 NEW YORK (TIP): "I've worked with Vaishali  for 3 years now. She is not just our Pharmacy Manager , she is my friend. Vaishali is a team player at work and at home. She is compassionate, friendly and empathetic. Vaishali is always available to our patients, customers, and myself Vaishali is very passionate about what she
does. She learned very carly about taking care of others from both her parents especially her Father who is a Dr. She is very involved with her children and still finds time to hold clinics in her community and speak al our local high schools. I look up to Vaishali and the way she deeply cares about others.
She always knows how to make me feel better afler a bad day. Last year Vaishali went out of her way to help me for one of my fundraisers. She knew I was stressed at work and home. She drove all the way out to my house in the pouring rain after a long shilt to drop olf homemade backed goods she made
for my bake sale the next moming. I told her not to but Vaishali being who she is, is ALWAYS trueto her word. I've met alot of wonderful people in my 21 years at CVS but she truly is 1 of a kind "
-Dee (Store Manager)
Vaishali's has been with CVS tor 20 years. Vee has always modeled our core values of innovation, collaboration, caring. integrity and accountability. Our core values created a strong foundation for influencing and leading her past and current teams. Vee started her career as a technician, then went on to become an intem, a staff pharmacist, and currently a pharmacy manager.
Vee has been married to her husband Amit Deshmukh for 15 years; they have 3 beauuful children together, The first time I met Vee Lasked her to tell me a little bit about each of her children… here is what she said:
Manav is 11 and our eldest boy. He has shown me that if we truly believe in ourselves anything is possible. Meera is our 10 year old girl… she is a free spint. She has shown me that living in the moment is important. Milan is 7 and our youngest boy… he has a heart of gold. Without my family I am nothing. [ would not be able to do any of the things I do without their support, They tuly keep me grounded, humbled, and blessed every day."
Vee always speaks highly of her father, another source of inspiration in addition to her family. Her father is a doctor and has practiced for many years on Long Island. Vee says that she tries to emulate the same care and empathy for her patients and team that her father (as a doctor) has for his. Vee has also shared her admiration for her mother. She sacrificed many things tor Vee and her sister. She left India at an carly age not knowing anyone in America, and managed to raise her children successfully.
Anyone that knows Vee, knows that she provides her team with a nurtunng environment tor her colleagues by inspinng then. She listens to them and demonstrates a deep level of understanding tor her team. As a result, Veo has built a strong connection with past and present colleagues.
Vee is a preceptor and has developed many great pharmacists. She provides a strong foundation for them and in the process has become a great mentor for them. As a preceptor she offers the opportunity to tum their potential into reality.
One of the things I admire the most about Vee is her natural ability to identify potential. I think of a recent example of a technician that worked with Vee and due to her intluence and guidance is now in pharmacy school and has completed his first professional year.
Vee lives in Farmingdale and is proud of that, She is proud of the fact that the commitment she has to her store is also the same level of commutment she has to her community. Vee shares stories of how she runs into many of her patients at local events and around her neighborhood.
A quote that Vee constantly shares is: "Mentors impact eternity because there is no telling where their influence will stop."
Vee constantly shows that her influence, coaching. values. and teaching has a deep impact on everyone that interacts with her.
                                       The Deshmukhs