NASDAQ tower lighted  for 5 days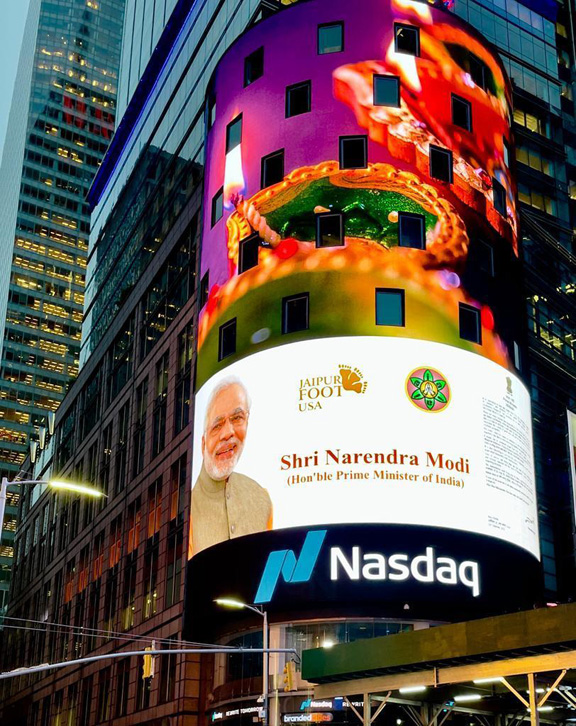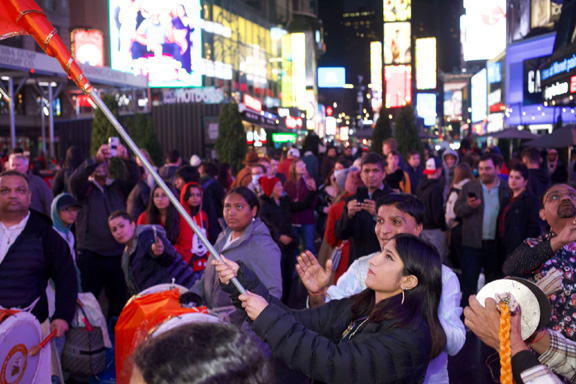 NEW YORK (TIP): A colorful and bright part of India was seen in New York's iconic Times Square as Diwali celebrations lit up the famous landmark with joy and festive spirit. Prime Minister Narendra Modi's special message was the icing on the cake. AIA NY held the Deepavali 2022 Diya-lighting ceremony on Sunday, October 23rd at Times Square, (43rd Street & Broadway) outside Nasdaq stock exchange, NYC. The Diya-lighting ceremony. Harish Thakkar, President of the AIA NY chapter, was accompanied by chief guest Dr. Samin Sharma, a noted interventional cardiologist at Mt Sinai, Prem Bhandari, Chairman of Jaipur Foot USA, Dr. Varun Jeph, Deputy Consul General of India in New York, for the Diwali celebrations at Times Square. A poster with Deepavali greetings from the leaders was also displayed at Times Square. Srinivas Ranga, Corporate Vice President at New York life insurance company, Dr. Samin Sharma, John Liu, New York State senator, Dr. Varun Jeph and Prem Bhandari lit the lamp during the inaugural ceremony at Times Square. New York's iconic Times Square was lit up with Diwali festivities as the Indian diaspora living in the US got together to enjoy every moment of it.  Association of Indians in America (AIA) New York chapter with Jaipur Foot USA in collaboration hosted a grand Deepavali event at NYC's Times Square, displaying the true spirit and grit of India away from home.
The Diwali function at Times Square had everything from the Diya-lighting ceremony to the playing of drums to the delight of spectators. People were enjoying the festivities organized as a part of the Diwali celebrations at Times Square. People played drums and danced their hearts out and sweets were also distributed to add the perfect desi touch to the festival in the US. Harish Thakkar, president said,  "We are sharing the message of Diwali – Knowledge over Ignorance, Peace, Love, Unity, and Togetherness and Inclusion in Diversity to the world from the biggest crossroads of the world, Times Square. Even the universe responded in appreciation by keeping the weather conducive to the event despite forecasts of rain throughout the day. Prem Bhandari Rana, president mentioned in his speech we are very grateful to Honorable  PM Narender Modi for sending  Deepavali greetings not only to 4.6 million NRI'S & OCI's  living in the US but to 40 million Indians across the world. NY State Senator John Liu said Diwali is the celebration of light and so, coming at a time of darkness, when there are so many stories of bereavement, sickness and financial hardship all caused by a virus, we need to ensure that our inner light stays ignited. Instead of thinking of 'Corona, it's a time to share compassion, love and care with everyone around us. He also said he attended many AIA Diwali festival events at South Street Seaport and thanked AIA president Harish Thakkar for organizing the Diya lighting event at time square.
The Deputy Consul General of India Dr. Varun Jeph extended his warmest wishes to everyone and said that Diwali truly brightens our evenings as we unite to celebrate the festival of lights, we mark the triumph of good over evil, light over darkness. Diwali's central message of openness, peace and mutual respect is one we can all learn from. He thanked AIA president, Harish Thakkar for organizing the Diya lighting event at Times Square and wished everyone Happy Diwali and a prosperous new year.
A.I.A president Harish Thakkar thanked the all the media, including ITV, TV Asia, Jus Punjabi, PTC News, South Asian Times, Desi talk, News India, Parikh Worldwide media, The Indian Panorama,  Radio Zindagi and Hum Hindustani "We are grateful to all our media who made this event a big success," he said.