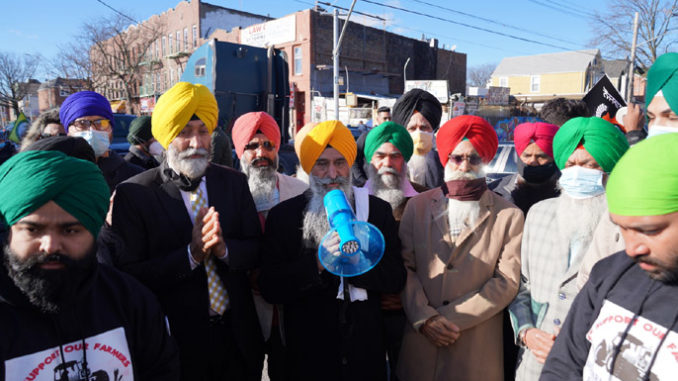 RICHMOND HILL, NY (TIP): Hundreds of Sikhs participated in a rally organized by the management of Gurdwara Baba Makhan Shah Lobana, one of the two largest Sikh shrines in New York, December 6. The Sikh community which hails from Punjab in India is deeply upset with the recent farm laws promulgated by government of India which, farmers allege,  go against their interests.
In India, Punjab farmers have been demanding repeal of these laws since their promulgation in June 2020. When the government of India did not consider their demand, they decided to go to the national capital Delhi to demand justice. They have been on sit in for a fortnight now, joined by farmers from all over India.
They have made their intentions clear to government of India that they will not be satisfied with anything less than the repeal of the anti-farming and anti-farmer farm laws.
Punjabis the world over have expressed their solidarity with the agitating farmers I India. In New York and New Jersey, a number of rallies have been held, and more are planned.