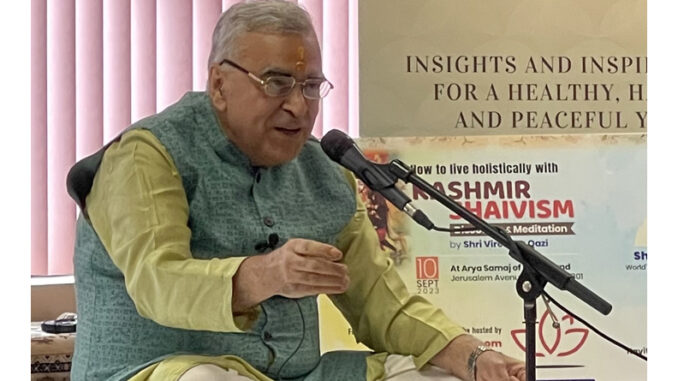 By Team@Lotus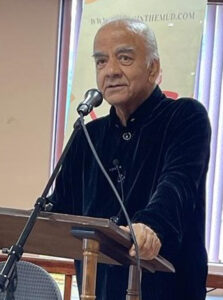 HICKSVILLE, NY (TIP): ALotusInTheMud.com organized its first public event on September 10 where Shri Virendra Qazi expounded on Kashmir Shaivism. About 70 prominent people from Long Island were edified at the session held at the Arya Samaj of Long Island arranged by Parveen Chopra, founder editor of the Lotus webmag.
Qazi ji is a top expert and practitioner of Kashmir Shaivism, which has been garnering attention even from global spiritual gurus. He said its central teaching is, 'I am Shiva'. "So, know that God resides in all of you and you can realize the Divine in this very life."
He defined Kashmir Shaivism as a universal spiritual philosophy that accepts all elements of life in totality and teaches a path of realization through divine grace. The grace or shaktipat is in us all to a lesser or greater degree. He advised people to make humility, love, and compassion their second nature. "That will give you tremendous blessings." He concluded with a brief meditation to give a taste of the follow-up experience sessions he conducts over two days. In his introduction, Dr Nirmal Mattoo said Qazi ji has been explaining Kashmir Shaivism to laypeople for three decades and had served in leadership roles in the Steel Authority of India. Dr Mattoo, the force behind the Center for India Studies at Stony Brook University, chairman of Indo-American Arts Council, and co-founder of Atlantic Dialysis Management Services, also gave an erudite introduction to Kashmir Shaivism.
Mohan Wanchoo, Chairman & CEO at EC Infosystems and philanthropist, thanked Qazi ji for "enlightening us about Kashmir Shaivism and I am sure all in the audience here benefitted as we were almost like drinking from a firehose of his pearls of wisdom."
Qazi's discourse was preceded by Mrs Hema Qazi rendering devotional songs in Kashmiri and Hindi. She was greeted by Kavita Wanchoo.
Prof Indrajit Singh Saluja, editor-publisher of The Indian Panorama, introduced Parveen Chopra as an editor whose passion for spiritual journalism inspired him to start Lotus magazine.
Parveen Chopra reported that ALotusInTheMud.com, launched in January, has been growing its audience at a fast clip. He added that Lotus was at the Parliament of the World's Religions in Chicago in August to cover it.
Prominent attendees at the event included Dr Buddhadev Manvar, Sunil Hali, Arvind Vora, Arish Sahani, Nilima Madan, and Atul Kumria. Refreshments were arranged by Renu Chopra. The event was supported by Dr Mattoo and Mohan Wanchoo and promoted by The South Asian Times as well as other media outlets. Based in New Delhi, Qazi ji has been holding similar events in many cities in the USA and Canada during his current tour.
Ashok Vyas, program director for ITV Gold, produced the video recording of the event for his Heramba Studio. Here is the link to watch the video on the YouTube channel of Lotus: https://www.youtube.com/watch?v=hCqXZtrBtrM