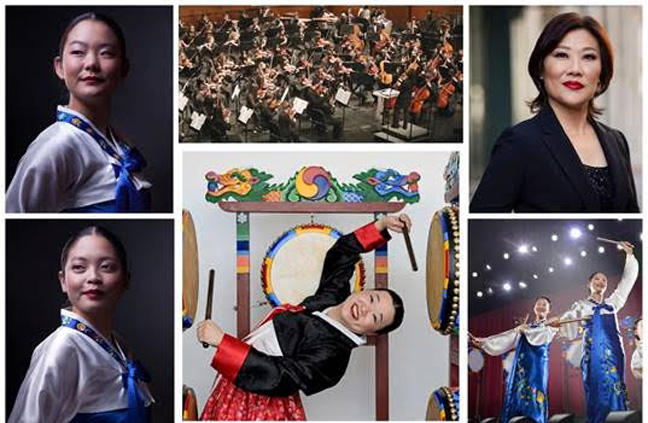 By Mabel Pais
The New Jersey Youth Symphony (NJYS), a program of Wharton Arts, officially opens the symphonic season on Saturday, October 30 at 4:00 p.m. at The Patriots Theater at the War Memorial in Trenton with a dynamic concert featuring the New Jersey Youth Symphony (NJYS) and Samgomu Dancers Holly Shin-Young Knudson, Quinn Lee, and Brooke Jee-in Newmaster, each an adoptee. The award-winning orchestra under the baton of award-winning Helen H. Cha-Pyo presents 'Symphonic Dances!', a vibrant display of Korean arts and culture featuring traditional Korean dancing and drumming. Rachmaninoff's 'Symphonic Dances' and Manuel de Falla's 'Three-Cornered Hat, Suite No. 2' will interlace with Kyle  Newmaster's 'Impressions of Cheonmachong': Concerto for Korean Three Drum Dance for a spectacular family event.
Artistic Director, Helen Cha Pyo said, "This exciting collaboration with Kyle and Brooke is truly a unique and enriching musical experience for our youth musicians, and I anticipate it will be a powerful experience for the audience. They will have the opportunity to hear Brooke's personal story immediately followed by her performance of 'Impressions of Cheonmachong.' It is my hope that this concert will inspire all of us as we share music and dance together from around the world in the context of personal stories."
Samgomu, often called "three drum dance" or standing "drum dance," is a traditional Korean art form where each dancer is surrounded on three sides by drums positioned in a way that allows the dancers to play complex rhythms while moving in synchronization.
'Impressions of Cheonmachong': Concerto for Korean Three Drum Dance, composed by Kyle Newmaster and choreographed by Brooke Newmaster (siblings), was commissioned for the Cape Symphony's 2016 concert, 'The Silk Road and Beyond.' The first collaboration piece for the sibling team, the work is a concerto for traditional Korean Samgomu dancing and drumming and large symphony orchestra. Very much a family story, the work began with Brooke's adoption and her passion for reclaiming her Korean cultural heritage. Together Brooke and Kyle created a work that both captures their family love and tells the compelling story of a great ancient king and his horse, the result being a piece that isn't strictly Korean or American. Brooke and Kyle dedicate 'Impressions of Cheonmachong' to their parents, Marge and Ray Newmaster, and to Brooke's Korean birth mother. Brooke Jee-in Newmaster is the director of JangmiArts, a program that provides Korean traditional dance, drumming, music, folk art lessons, and workshops since 1984. JangmiArts focuses on supporting Korean Adoptees of all ages to experience Korean culture through the arts. People of all backgrounds are invited to learn together. Newmaster's lifelong passion for Korean traditional culture and her experience as a transnational, transracial Korean adoptee growing up in Minnesota was the genesis for 'Impressions of Cheonmachong.'
Holly Shin Young Knudson was born in Seoul, South Korea. She was adopted when she was six months old by a family in Minnesota and has been dancing with JangmiArts for over 27 years. She is a manager at U.S. Bank.
Quinn Lee was adopted when she was six months old into a family where she has a younger brother biological to her adoptive parents. She grew up and still lives in Minneapolis, Minnesota. Quinn has been part of JangmiArts since she was six years old. She is currently the Assistant Extended Learning Coordinator at Yinghua Academy, a Chinese immersion school.
The New Jersey Youth Symphony (NJYS) will present four signature concerts this season chronicling a variety of dance rhythms from across the globe in the 'Beyond Cultural Boundaries Series: A Confluence of Music, Dance, and Story.'
TICKETS
For info on event details, tickets and discounts for students and seniors, visit NJYS.org.
 WHARTON ARTS
To learn about Wharton Arts, visit whartonarts.org
(Mabel Pais writes on The Arts and Entertainment, Social Issues, Health & Wellness, Cuisine and Spirituality)