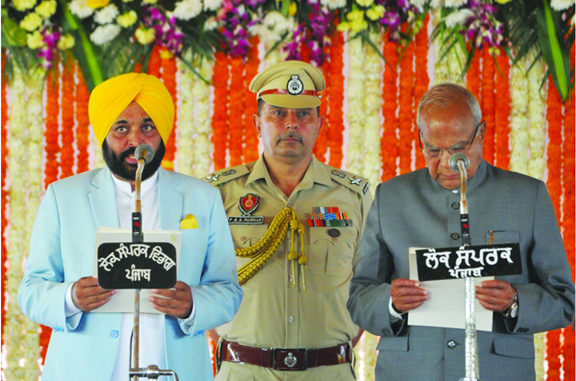 Punjab Governor Banwarilal Purohit (right) administering the oath of office and secrecy to Bhagwant Mann at Khatkar Kalan. Khatkar Kalan (TIP): Punjab Governor Banwarilal Purohit administered the oath of office and secrecy to Bhagwant Mann in the swearing-in ceremony  at Khatkar Kalan, the ancestral village of legendary freedom fighter Bhagat Singh in Punjab's Shaheed Bhagat Singh (SBS) Nagar district. The venue was  brimming with 'basanti' turbans and dupattas,
Mann, the 18th CM of Punjab,  took oath in Punjabi. Besides newly-elected AAP MLAs, Delhi Chief Minister & Aam Aadmi Party national convener Arvind Kejriwal, deputy chief minister Manish Sisodia, and other leaders wearing yellow turbans took part in the ceremony.
The AAP romped home winning 92 seats in the 117-member Punjab Assembly, decimating the Congress and the SAD-BSP combine.
Besides the newly-elected AAP MLAs, Delhi Chief Minister Arvind Kejriwal, deputy chief minister Manish Sisodia, Delhi minister Satyendar Jain, and other leaders were also present in bright yellow turbans.
The 48-year-old Mann, who took the oath in Punjabi, also delivered a brief address after the ceremony.
In his first speech after becoming the chief minister, Mann assured the people of the state that his party's government in Punjab will work to address issues like unemployment, corruption and farmers' plight.
Starting his speech after the Governor left, the new Chief Minister said: "Bhagat Singh had a dream of taking this freedom to every household. AAP is fighting that battle. You have supported us. I will require many lifetimes to pay off the debt of this love that you have showered over me," he said from the stage.
Kejriwal, Delhi deputy CM Manish Sisodia and other party leaders, who were seated on a separate stage on Mann's left, were seen applauding as the new CM took oath and later spoke. The newly-elected 91 AAP MLAs were also seated on another stage to Mann's right. Mann and Governor were on the podium in the middle. AAP's Punjab affairs in-charge Jarnail Singh and co-incharge Raghav Chadha also attended the event. Dressed in a white kurta-pyjama, blue blazer and a 'basanti' turban, Mann sounded a note of caution as he asked AAP supporters to exercise restraint.
"I am not going to speak against anyone today. I want to tell you too that we do not have to be arrogant. We do not have to go to anyone's house and challenge him. We do not have to say that we are the winners. Those who did not vote for us, we are their Chief Minister also. We are their government too. It is democracy. Everybody has the right. I should not get this news that these people are arrogant," said Mann.
He reiterated that the new government will start working without losing any time.
"We will work. We have to start working from today. We have already wasted 70 years. We have no time to waste anymore," he said.
Later, in the evening, Mann assumed charge of the office at the Punjab Civil Secretariat.
During his speech after taking oath, Mann also touched upon the issue of youth of Punjab migrating to other countries for better opportunities and said that this trend has to be reveresed. He assured the people of the state that his party's government in Punjab will work to address issues like unemployment, corruption and farmers' plight.
"I want to share a couplet by Bhagat Singh – 'Ishq karna sab ka paidayashi haq hai, kyo na iss baar vatan ki sar-zameen ko mehboob bana liya jaye (Loving is everyone's birthright. Why not choose the nation as our beloved this time)'. We will change the state like Delhi. People will come from abroad to take selfies at our schools. You people created history. Punjab's name was written in golden words on March 10. It will be written in the school books that February 20, 2022, was the day when people started voting without fear or greed of inducements," he said.
Saying that he paid obeisance to the martyrs and sought courage and wisdom to carry out his task as CM, Mann said: "I am not even the dust of their feet. But when public supports you, then you can expect anything from a person."
He also thanked Kejriwal for changing country's politics by creating a political party out of an "aandoolan".
He ended his speech, saying: "Haqumat who karate hain jinka dilon par raj hota hai, yun kehne ko toh murge ke sarr pe phi taj hota hai (Real rulers are those who rule over people's hearts, otherwise even a rooster has a 'crown' over its head)'."
A number of singers and artists, including Gurdas Mann, Karamjit Anmol, singer-turned-politician and Congress MP Mohammad Sadique, and Amar Noorie, were present at the event.
There was heavy police presence at the the venue to manage lakhs who started descending at Khatkar Kalan to attend the event from morning itself. The event scheduled to start at 12.30 pm, began at 1.25 pm.
Mann had invited the people of the state to attend his swearing-in ceremony, saying the three crore people of Punjab will also take oath with him.
Elaborate arrangements were made for the ceremony which was attended by AAP supporters from various parts of the state. Almost all were seen wearing yellow – in form of dupattas or turbans. While many arrived in buses, few also cycled to the venue.
The atmosphere was surcharged with enthusiasm as the people raised slogans of 'Inquilab Zindabad' (long live revolution) and 'Bole So Nihaal'.
In a tweet, the PM said: "Congratulations to Shri @BhagwantMann Ji on taking oath as Punjab CM. Will work together for the growth of Punjab and welfare of the state's people."
Union Defence Minister Rajnath Singh too tweeted his best wishes to Mann for his tenure ahead.
Tamil Nadu CM M K Stalin and his Odisha counterpart Naveen Patnaik, Samajwadi Party president Akhilesh Yadav were also among those who congratulated the new Punjab CM.      Source: The Indian Express and Agencies