India is presently the world's third largest manufacturer by value*1 and has the lowest manufacturing costs globally. About one in three pills consumed in the U.S. and one in four in the U.K. are made in India*2. However, India's $42 billion pharmaceutical sector is heavily dependent on China for key active pharmaceutical ingredients or API – chemicals that are responsible for the therapeutic effect of drugs. As per Government of India report. This may be starting to change. Under a government scheme launched two years ago, 35 Aps, beginning to be produced at 32 plants across India in March. This is expected to reduce dependence on China by up to 35% before the end of the decade, according to an estimate by ratings firm ICRA Limited, the Indian affiliate of Moody's. Thanks for the initiative taken by the Union Minister Mr. Mansukh Mandaviya, the productivity linked incentive scheme*3 was first launched in mid-2020*3 , when military tensions with China were at a high. The PLI program aims to incentivize companies across all sectors to boost domestic manufacturing by $520 billions by 2025. For the pharma sector, the government has earmarked over $2 billion worth of incentives for both private Indian companies and foreign players to start producing 53 APIs that India relies.
Global Indian Trade and Cultural Council, (GITCC)USA is proud to spearhead its 1st annual 2023 U.S-India Healthcare & Business Summit. A prominent group of 100 international business leaders and government officials, from India, US and Arab countries, will headline at this program, sharing their perspectives on issues, factors and considerations that shape healthcare relations between these two spheres. Our team comprised of Mr. H S Panaser, Chairman, GITCC, USA, Mr. Anand Krishnamurthy, CEO, Coolsoft , USA and Mr. T.Srinath, Vice President, Epicminds,India.
We started our campaign to meet the top leaders in academe Industry and bureaucrats of the healthcare verticals covering Pharmaceuticals, Medical devices, IT, Research and Education segments. Our firstvisitwas the National Institute of Pharmaceutical Education and Research (NIPER), S.A.S. Nagar, (Mohali),which  is the topmost pharmaceutical education andresearch institute in India, under India's Ministry of Chemicals and Fertilizers. It's important to remember Professor Emeritus Harkishan Singh, Padma Shri awardee who had a dominant role in establishing NIPER. His Vision and farsightedness of this concept has borne fruits. NIPER produces high quality pharmaceutical manpower for fast expanding drug industry and profession. We hadseparate meetings with Director, Prof. Dulal Panada, Prof. Paramal Tiwari and Prof. Anand Sharma of Niper, Board Advisor Dr T R Bhardwaj, Ex.Vice Chancellor, Baddi University, HP, and is a well-known personality in Pharmaceutical education and research, He was also the Dean, University Institute of Pharmaceutical Sciences Pharmaceutical department of Chitkara University, Punjab We shared an updated Pharma Presentation for further discussion including Pharma-IT education including AI and ML prospects. We have talked about their participation to US India Healthcare Summit 2023 and to initiate student exchange programs between US and India.
In Ahmedabad, our team met Dr. H.G. Koshia, Commissioner, FDCA – Gujarat and his team of Experts Drug Inspectors & Senior Drug Inspectors. We discussed about the pharmaceutical industry and its growth in both generic and API segment in Gujarat. We also met Mr. Manoj Agarwal. IAS, Ad. Chief Secretary, Govt of Gujarat about working for initiating AI and ML application for data safety and e-governance and other healthcare innovations and working relationship between US and India.
We had a very constructive meeting with Mr. Biswajit Mitra, CMO. Mr. Jawed Zia , CEO and Mr. A K Sharma, President, Cadila Pharmaceuticals at their HQ in Ahmedabad. Cadila is presently in all regulated markets of the USA, Europe and Japan and Africa. With strategic collaborations and operations in over 100 countries, Cadila has more than 9000 employees including over two hundred people outside India in Africa, CIS, Japan and USA.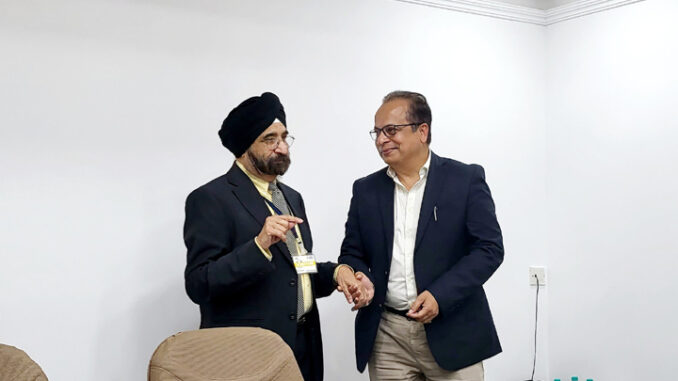 We talked about different verticals of US India Pharmaceutical market and the importance of Cyber Security, data protection with AI and ML applications. The increasing competitive manufacturing landscape could mean that we will see not only the well documented strategic partnerships, but also, the pre-booking of reserve capacity in advance of any needs. From a contractual point of view, this means we will see both deeper supply chain partnerships for suppliers, as well as the ability to demand longer contracts and more favorable terms.
In continuation to promote US India Healthcare relations, the GITCC team including, President, Mr. H S Panaser and Mr. Anand Krishnamurthy visited Alembic Pharmaceuticals Ltd, an Indian multinational pharmaceutical company headquartered in Vadodara and met Mr. Mitanshu Shah Sr VP, Finance and Mr. R. Joshi, Dy. GM. Alembic is involved in manufacture of pharmaceutical products, pharmaceutical substances and intermediates. It is also termed to be a market leader in macrolides segment of anti-infective drugs in India. With about 9000 employees. the company now sells more than 100 products in the United States, representing more than 400+ SKUs under its own label.Alembic intends to launch 15 to 20 products each year over the next 3 years. In addition, Alembic now have fully operational oncology injectable facility. In total, Alembic has 100+ ongoing projects, which include targets in dermatology, injectable, and ophthalmic.
In Ahmedabad,we also visited Indian Pharmaceutical Leading companies top leadership to be the part of this new initiative, Zydus Lifesciences Limited, formerly known as Cadila Healthcare Limited, is an Indian multinational pharmaceutical company, which is primarily engaged in the manufacture of generic drugs. It featured in the Fortune India 500 list in 2020.Cadila was founded in 1952 by Ramanbhai Patel (1925–2001), formerly a lecturer in the L.M. College of Pharmacy, and his business partner Indravadan Modi. It evolved over the next four decades into an established pharmaceutical company. Zydus today is a Leader in Pharmaceuticals manufacturing as a Billion-dollar company. Me along with my advisors on board had meeting with Dr. Keyur Parekh, Sr. VP and Lead Strategist. we had an opportunity to visit their center of science and innovation as well.
We are in continuation to our meetings for the 2023, US India Healthcare Summit and understanding the companies visited Vadodara HQ of Sun Pharmaceuticals. Already the world's third-largest manufacturer of medicines by volume, India has one of the lowest manufacturing costs globally. About one in three pills consumed in the U.S. and one in four in the U.K. are made in India. However, India's $42 billion pharmaceutical sector is heavily dependent on China for key active pharmaceutical ingredients or API — chemicals that are responsible for the therapeutic effect of drugs.
The 2014 acquisition of Ranbaxy made Sun Pharma the largest pharma company in India, the largest Indian pharma company in the US, and the 4th largest specialty generic company globally. It's having a revenue of $5 billon with 37,000 + employees. Me along with Anand Krishnamurthy and team talked about usage of AI and ML in Pharmacovigilance, cyber security, and data protection. We also talked about the applications for sales and marketing, supply chain, manufacturing and its usage in drug development process and its command and control. We met Mr. A.S. Sajam, Head Administration along with others including representation from FDAC.\
In continuing our efforts to meet the top Indian Pharmaceutical manufacturers for GITCC USA for US India Healthcare Summit 2023. Mr. H S Panaser and Mr. Anand Krishnamurthy and T. Srinivas visited Hyderabad. We met Mr. T Srinivas CFP, Bharat Biotech, a 700 plus employee company The company has been responsible for developing COVAX whichis a whole inactivated virus-based vaccine 19 developed by Bharat Biotech in collaboration with the Indian Council of Medical Research – National Institute of Virology and a naturally attenuated strain derived Rotavirus vaccine called ROTAVAC.They were one of the first to develop vaccines for viral diseases like Chikungunya and Zika. The company also produces vaccines for Japanese Encephalitis.[13] Bharat Biotech has biosafety level 3 (BSL3) laboratories.
Hetero Drugs and had a meeting with their Chairman Dr. B P S Reddy, also the Member of Parliament, India and the Managing Director Dr. V K Reddy.Today, Hetero has Asia's Largest API SEZ manufacturing complex for APIs – with 1,000+ reactors and spread over 500 acres. Hetero has over 36 strategically located, manufacturing facilities catering to diverse market requirements on demand – including India, USA, China, Russia, Egypt, Mexico, Indonesia and Saudi Arabia.
*1: https://www.ibef.org/exports/pharmaceutical-exports-from-india#:~:text=India%20Pharma%20Exports%20and%20Advantage%20India&text=India%20has%20exported%20US%24%203.89,US%24%201.97%20in%20August%202020.
*2: https://www.orfonline.org/expert-speak/time-to-end-the-battle-of-indian-pharmaceutical-players-and-chinese-key-ingredients/
*3: https://www.ibef.org/download/PLI_schemeRevised.pdf
(H. S. Panaser is a Global Marketing and Business Development Consultant, Speaker and EDP Trainer. He is Chairman, GITCC, USA.
He can be reached at hspanaser@gmail.com
 US phone 1- 732-266-2027)