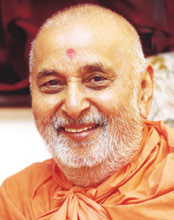 SARANGPUR, GUJARAT, INDIA (TIP): Millions of tearful devotees gathered for the cremation rites of His Holiness Pramukh Swami Maharaj, one of India's most commonly known Hindu ascetics revered by millions around the world. The fifth spiritual successor of Bhagwan Swaminarayan and spiritual leader of the BAPS Swaminarayan Sanstha departed his mortal body on Saturday, August 13, 2016 at the age of 95. Over 2.1 million devotees from around the world dashed to the village of Sarangpur in Gujarat, India, to pay their last respects before his final rites were performed on Wednesday, August 17, 2016.
The atmosphere was filled with comforting friends and strangers sharing memories with each other of their uplifting interactions with Pramukh Swami Maharaj, reminiscing upon the heartfelt connection that cemented his influence and wisdom in their lives. Many had traveled overnight from the United States to attend the cremation.
"Pramukh Swami Maharaj welcomed all people in search of guidance, spirituality, and self-improvement. He had a heart in which the whole world could live. Those who love him are all different, but the divinity they saw in him is the same," said Puja Patel, 22, from Columbus, Ohio. Most remembered as a pious, selfless person, Pramukh Swami Maharaj had dedicated his life towards the service and personal development of others, establishing mandirs (Hindu temples) to preserve spirituality for current and future generations, as well as developing and overseeing schools, hospitals, and disaster relief services to provide infrastructure and support across communities of all sizes.
Dr. Kashyap Patel, a cardiologist in Atlanta, Georgia, expressed his feelings following the passing, "I grew up building a bond with Pramukh Swami Maharaj. His travels from India would bring him to America, and he would take the time to get to know devotees in all corners of the world. He would reassure them in their faith, talk with them about their struggles, challenge them to improve their poor habits, listen to their seemingly insignificant worries – sharing the burden of life's emotions with all who would lean on him. As he aged, his travels slowed, and face-to-face meetings with him grew fewer for all devotees. During this time, it became clear that his role as a guide, as a Guru, was not limited to his physical presence, it continues in the hearts of all those who accepted him as their teacher and friend."
Once the official word was released from the BAPS Shri Swaminarayan Mandir Sarangpur, Indian television networks began coverage of the memorials and tributes leading to the final rites rituals of Pramukh Swami Maharaj. Heads of state from all over the country arrived to pay a final visit to the spiritual leader who has united communities in support of serving society. Prime Minister of India, Narendra Modi, visited Sarangpur, Gujarat from Delhi and addressed saddened devotees before the funeral rites saying, "His Holiness Pramukh Swami Maharaj was a stalwart among humans who embodied compassion and humility…Today you have lost a Guru, but I have lost a father." Senators, congressmen, and governors offered their condolences. Congressman Ed Royce of California wrote, "He touched countless lives, providing hope and guidance during his tireless travel across India and around the world. As a spiritual leader, he will indeed be sorely missed,and my prayers are with the millions around the world who mourn his passing and celebrate his remarkable life."
British Prime Minister Teresa May, Canadian Prime Minister Justin Trudeau, HRH Prince of Wales, and other heads of states also sent condolences and tributes. "His Holiness Pramukh Swami Maharaj exemplified the values of British Hindus whose contribution helps make the United Kingdom one of the world's most successful multi-cultural, multi-faith democracies," stated British Prime Minister Teresa May. Speaking of his life of service she added: "This legacy of selfless service will continue to benefit humanity for a long time to come." Over 95 years, Pramukh Swami Maharaj's life work and travels acquainted him with curious minds from around the globe.
After news of his passing, many have extended their warm words on the loss of a beloved leader. Tributes are shared at http://pramukhswami.org/tributes. Born as Shantilal Patel on December 7, 1921, Pramukh Swami Maharaj, was initiated as a swami (Hindu monk) on January 10, 1940 and received the name Narayanswarupdas Swami. On May 21, 1950 he was appointed as Head of the organization and came to be known as Pramukh Swami Maharaj. Ever since he became a swami, he has counselled seekers from all walks of life through comforting discussions, compassionate letters, early hour phone calls, and visits throughout Gujarat – home to home, hut to hut – often made entirely by foot. The sheer amount of time given selflessly in working with people, listening to their pains and miseries to provide solutions rooted in unity and compromise, is the reason the entire Hindu community is experiencing an unparalleled sadness upon his passing. Pramukh Swami Maharaj served individuals as a father, teacher, mentor, friend, advisor, and ally – he was a Guru who empowered people to live morally upright lives rooted in devotion that would transform their character, attitudes, and outcomes to provide greater happiness for both themselves and their families.
When the final rites were performed, thousands in Sarangpur were seated in prayer facing Pramukh Swami Maharaj's funeral pyre, with hundreds of thousands watching through a live telecast streaming around the world. In accordance with Hindu final rites His Holiness Mahant Swami Maharaj, carrying a bundle of straw set ablaze by a holy flame from the site of the Akshar Deri located in Gondal, Gujarat, began the final circumambulations around Pramukh Swami Maharaj's mortal body. With each step, Vedic chantings could be heard resounding in the background. The circumambulations were continued by senior swamis, who have shared a religious life with Pramukh Swami for decades, each bowing their head with utmost love and respect as they paid their final respects to both a guru and friend. When the flame ignited Pramukh Swami Maharaj's body, beginning at his toe, the audience was collectively stilled and quieted. The mood on the mandir grounds was solemn and awash with the profound devotion of pained people as they watched the light of the pyre grow stronger, recalling their Guru. Heartfelt tears soaked millions of faces for whom this day was unimaginable, the day of the physical departure of their beloved Guru who has guided them through life's peaks and valleys. Chaitali Inamdar of Edison, New Jersey said, "Although I am deeply saddened by the news, I truly believe he will always be with us through his teachings. I lost a friend but even in that loss, I have gained insight and wisdom in the reassurance that his message thrives in how I choose to live my life." Pramukh Swami Maharaj's life and message of spirituality has left a lasting impression on the community of Hindus who will now work to carry his work and teachings forward under the guidance and leadership of His Holiness Mahant Swami Maharaj, Keshavjivandas Swami, sixth spiritual successor of Bhagwan Swaminarayan and Guru of the BAPS Swaminarayan Sanstha. All individuals who wish to send their condolences and fond memories with His Holiness Pramukh Swami Maharaj are encouraged to send their notes to tributes@in.baps.org, or share their stories on social media using the hashtag #pramukhswami. More details on http://pramukhswami.org , www.baps.org https://www.youtube.com/user/BAPSChannel ###
About BAPS The BAPS Swaminarayan Sanstha (BAPS), a worldwide socio-spiritual organization in Consultative Status with the Economic and Social Council of the United Nations, is dedicated to community service, peace and harmony. Motivated by Hindu principles, BAPS strives to care for the world by caring for societies, families and individuals. Through a number of social and spiritual activities, BAPS endeavors to produce better citizens of tomorrow who have a high esteem for their roots – their rich Hindu culture. Its 3,300 international centers out of which over support these activities of character-building. BAPS aspires to build a community that is morally, ethically and spiritually pure, and free of addictions.
BAPS North America Since 1970, BAPS has been serving families and individuals across USA and Canada through various spiritual and cultural activities. Its 150 centers, including over 90 mandirs, form the hub of its various initiatives. With over 65 dedicated swamis giving spiritual guidance, the organization hosts over 630 weekly satsang assemblies for children, youth and adults. More details on http://www.baps.org/Global-Network/North-America.aspx Contact: BAPS North American Headquarters Phone: 732-777-1414 ext 140 or 732-497-2267 Email: media@na.baps.org Source: BAPS (Based on a press release)