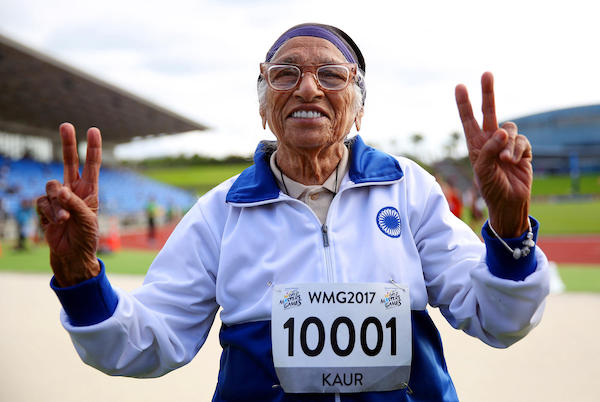 NEW YORK(TIP): We can learn a lot about a society by examining the accomplished individuals that serve as its athletic icons. In recent years we have seen worldwide media coverage for famous Sikh runners, Fauja Singh and Milkha Singh. All the while, another Sikh athlete has been quickly but quietly amassing recognition in the sporting community. Her name is Man Kaur, and as a record-breaking runner, her fascinating story is an inspiration to Sikhs, Punjabis, athletes, women, and senior citizens alike.
Though today Man Kaur has been recognized across the world as a 102-year-old award-winning athlete, her career as a runner began relatively late in her life, at the age of 93. Far prior to her life as a runner, Man Kaur lived an illustrious past as royal servant to the 360 queens of the King of Patiala State in Punjab. In this position, she started every day at 4:00AM and often worked until 10:00PM, taking on tasks such as grinding wheat on a manual grinding mill, milking cattle, and making butter from yogurt, to prepare dishes which would be served to the royal family. Man Kaur specifically attended to the queens who had children or were sick. Man Kaur's service to the royalty follows her family's legacy: Her father, Ranjeet Singh, worked for Maharaja Bhupinder Singh Ji and Maharaja Yadavindra Singh Ji as a Langari, preparing meals for the family. Her mother would look after the queens of the same Maharajas, as well as the children—including current Punjab Chief Minister Amarinder Singh. Her grandfather Trilok Singh was also a Langari. Who could have imagined that the humble servant, whose life existed in the shadows of Punjabi royalty, would herself go on to achieve international prestige and fame?
In 2009, Man Kaur followed the advice of her son, Gurdev Singh—a seasoned athlete himself at the age of 81—and began training as a runner. She started participating in the India Masters Athletics in national competitions. In just two years, she took her career international—winning two gold medals at the World Masters Athletics Championships in Sacramento, setting world records in the 100m and 200m races, and earning herself the title "Athlete of the Year." Man Kaur has gone on to win gold at the 2012 Asian Masters Athletics Championships held in Taiwan, the 2013 in Canadian Masters Athletics Championships in Regina, and the Huntsman World Senior Games in St George, Utah. As of 2016, she has been breaking records in the 100+ age group, including at the Americas Masters Games in Vancouver and Sky Walk in Auckland. In addition to breaking barriers in racing, Man Kaur has excelled in shot put and javelin throw.
Man Kaur has worked very hard to earn her success. She is actively looking toward self-improvement and keeps a strict training and diet regimen. Man Kaur trains every afternoon with her son, Gurdev Singh. After a brief warmup, she sprints five intervals of 40–50m interspersed with five-minute breaks. On alternate days, she increases her sprints to 100–200m. In addition to training daily (Man Kaur believes even one day off can decrease an athlete's momentum), she credits a very strict diet to her athletic success. Gurdev Singh prepares soy milkshakes each morning, and throughout the day they eat whole wheat chapatis, nuts, yogurt, fresh fruit juice and wheat grass juice. Man Kaur avoids sweets and fried food, and instead focuses on food that will fuel her body and gives her the energy to compete across the world.
Despite her international success, Man Kaur has remained humble and keeps close ties to her Sikh religion. After completing each race, she feels grateful for God's blessings that has pushed her to finish.  When some people compared her to Jamaican Olympic sprinter Usain Bolt, Man Kaur denied any part in her success and celebrity. There are a billion others in the world just like her, she claims, but with the grace of God, she has earned the awards to show for herself. And she doesn't let this gift go in vain. "Those who are healthy, they don't bother for counting years but those who are having ill health pass their time by counting," Man Kaur adds. As long as the Guru keeps her healthy, she will continue to compete.
In addition to her training regimen and her religious faith, Man Kaur credits her success to her supportive family. Man Kaur was first introduced to athletics by Gurdev Singh, her son, "You have no problem, no knee problem, no heart problem—you should start running," Gurdev said. Though hesitant at first about competing, she quickly found her comfort zone. Gurdev was a regular member of his college athletic program and soccer team, but his career slowed after graduation. He continued pursuing his interest in fitness, but found his calling as a coach, supporting the careers of others, including that of Man Kaur—his mother and best friend.
Man Kaur's accomplishments have transcended all communities. She is credited today as the world's fastest centenarian. Last year, she won the Guinness World Record for the javelin throw in her age group. She has competed across India, US, Canada, Taiwan, and New Zealand. Even Charmaine Crooks, a five-time Olympian who serves as an athlete ambassador for the Masters Games, praised Mrs. Kaur for her dynamic spirit. She said, "She's inspiring everyone, young and old."
With successes of films like Bhag Milkha Bhag and Dangal and Adidas' multi-million-dollar endorsement deal with Fauja Singh, Punjabi athleticism has been in the public eye, and Man Kaur adds tremendously to further inspire the community. Members of the New York City Tri-State Area can meet Man Kaur this Sunday, April 29, at the Vaisakhi 5K Run 2018 at Victory Field in Woodhaven, NY. The Vaisakhi 5K Run—now in its fifth year—is a community gathering to celebrate fitness, sport, and the spirit of Chardi Kala, marking the festival of Vaisakhi every spring. Previous guests of honor have included marathoner Fauja Singh and humanitarian Ravi Singh of Khalsa Aid.
Attendees can register online at Vaisakhi5K.com or by calling 844-VAISAKHI.