NEW YORK CITY, NY (TIP): Guests at the Indian Consulate in New York on March 27 were simply electrified to watch the Indian and Peruvian artists performing with superb finesse the dances of India and Peru.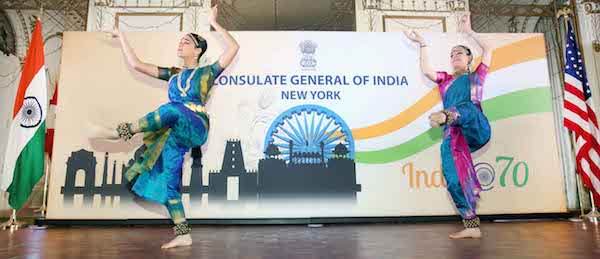 The Peruvian dance was full of vigor and grace. The two female dancers simply bowled over the gathering with their performance. The artist who played trumpet cast a spell as did the drummers and the artist on guitar.
However, the show was completely stolen by the duo of disciple and her teacher. Nandini Chakravorty who is daughter of Sandeep and Taruna Chakravorty, gave an outstanding performance with her Guru Ananga Manjari Malatesta Gonzalez of Peru. Ananga is one of the best known Bharatnatyam dancers and has very lovingly groomed Nandini. One does not come across such superb performance of Bharatnatyam, which is considered to be one of the most difficult dance forms. Bharatanatyam style is noted for its fixed upper torso, legs bent, or knees flexed out combined with spectacular footwork, a sophisticated vocabulary of sign language based on gestures of hands, eyes and face muscles.
In his brief welcome note, Ambassador Sandeep Chakravorty, who grew nostalgic about his tenure as India's ambassador to Peru underlined the importance of cultural exchanges between different people and nations. He thanked the Consul General of Peru Maria Teresa Merino de Hart for her cooperation in organizing an international cultural evening.
Ambassador Maria Teresa Merino de Hart said it was a great idea to have the artists of various countries coming together too exhibit their cultures. She said she was pleased to be at the Indian Consulate for the cultural evening, with Indian and Peruvian dancers performing.
Guests were treated to delectable Peruvian cocktails, beer and delicious Peruvian food.