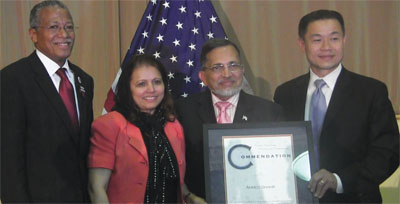 NEW YORK (TIP): Ahmed Shakir, P.E. who is the Local 375 Secretary, arrived in the United Sates of America in 1969. He received his B.S. and M.S. in structural engineering from the University of Texas. As a student he was active in international, Indian and Muslim student associations because of his deep interest in social, community, and political activities. This initial commitment stemmed from his belief that everyone should dedicate some of their time to improving and serving their community.
Over the past twenty years, Ahmed has been extensively involved in the union and labor activities. He has a number of accomplishments to his credit. He is the first South Asian elected as Secretary of Local 375 for four consecutive terms, since 1998. He is the first South Asian to serve as Vice President on the Board of Directors of the Asian Pacific American Labor Alliance of U.S.A. He is on the Board of Directors of the Eastern Queens Democratic Party and an officer for the union and their political office.
He is a founding Vice President of the American Engineering Alliance which was established in 1996. As a Treasurer of FIA since 2009, Ahmed is bringing new sponsors for FIA and helps FIA to connect with Senators, Congressmen and Political leaders at City and State levels. Among his peers and colleagues, Ahmed has come to be seen as a man who promotes the idea and practice of tolerance in every facet of life.
He believes that people should work together regardless of nationality, religion, or race, because peace and prosperity can only be achieved through non-violence, patience and service to the needy. Ahmed's message to Indian community in USA is to come together and take a leadership role in the adopted country. "This country gave us all the opportunity to make our dream come true.We should make every effort to be worthy of this country", says Sakir