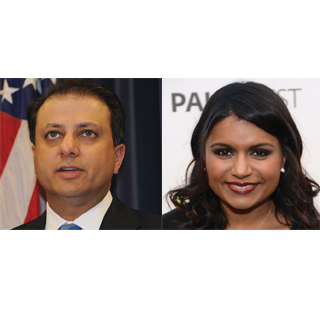 WASHINGTON (TIP): Indian Americans Preet Bharara and Mindy Kaling have been selected as speakers for this year's Class Day ceremonies at Harvard Law School.
Bharara is the US Attorney for the Southern District of New York, and has been in the news frequently for his crackdown on securities fraud on Wall Street and his initiation of legal proceedings against Devyani Khobragade, the former Indian Deputy Consul General in New York.
Of late, his activities led to the arrest and subsequent conviction of Indian American hedge fund manager Mathew Martoma, and started a diplomatic feud between the US and India that still has not been fully resolved. Mindy Kaling, on the other hand, is involved in much lighter affairs. The comedienne is perhaps best known for her hit FOX TV sitcom, "The Mindy Project."
Additionally, she has had roles on TV shows such as NBC's "The Office," and has featured in hit movies like The 40 Year-Old Virgin and No Strings Attached, in which she played the best friend of Oscar-winner Natalie Portman's character. Bharara is alum of Harvard, having graduated magna cum laude from Harvard College in 1990 before going on to Columbia University, where he earned his J.D. degree in 1993 and was a member of the Columbia Law Review.
Before his current job, Bharara was chief counsel and staff director of the Senate Judiciary Committee's Subcommittee on Administrative Oversight and the Courts, and also served as the Assistant U.S. Attorney in the Southern District of New York. Kaling is a native of Cambridge, Massachusetts, not far from where Harvard is located.
She went to rival Ivy League school, Dartmouth College, graduating in 2001. She became an avid cartoonist and stand-up comedian during her time in school, eventually going on to break barriers for south Asian women in Hollywood. Class Day is part of the larger Commencement ceremonies at Harvard Law School; Bharara and Kaling will speak on Wednesday, May 28.