NEW YORK CITY (TIP): The Indian community in New York, headed by GOPIO in collaboration with the Consulate of India organized a get together to bid farewell to the Consul General, Ambassador Dnyaneshwar M. Mulay on February 14, 2016.
Ambassador Dnyaneshwar M. Mulay, who served as the Consul General of Indian in New York for two years and ten months, received accolades from business owners and professionals alike at the farewell event which was attended by a large number of people from all walks of life.
Mr. Mulay's rare achievements, to mention a few, include founding of monthly Media-India lectures, PM's first visit with special reference to his public meeting with Indian community at Madison Square Garden and his interaction with the local public at Central Park, making the Consulate a model for cleaning drive by the Ministry, strengthening connection with Indian community by starting well-appreciated out-reach programs called 'India at Your Doorstep', besides several others.
Mr. Mulay has been appointed to head the newly formed 'India Diaspora Division' in the Ministry of External Affairs incorporating the Ministry hitherto known as Ministry of Overseas India Affairs. His many great contributions covering all aspect of services -personal and official were recalled and appreciated by the speakers who included India's Permanent Representative to the United Nations Ambassador Syed Akbaruddin, H.R. Shah, Dr. Sudhir Parikh, Dr. Navin Mehta, Prof. Indrajit S Saluja, Attorney Ravi Batra, and Ashok Vyas. Deepak Dave conducted the program.
Ambassador Syed Akbaruddin, Permanent Representative of India at UN and a contemporary of Mulay in the Indian Foreign Services, recalled his early days when Mulay was known as a poet among his batch mates. "A literary person at heart Mulay emerged as a fine diplomat fulfilling his duties, which are like writing hard prose not poetries."
Ambassador Akbaruddin recalled that Mulay had skillfully handled delicate issues during the political turmoil in Maldives where he was serving as the High Commissioner of India before coming to New York. His diplomatic skills were put to test in New York when India-US relations reached new lows in the event of the arrest of Devyani Khobragade, the then Deputy Consul General.
Speaking on the occasion, Dr. Navin Mehta, a former Chairman of Bharatiya Vidya Bhavan who has known Mr. Mulay well for some years now said, "Mulay successfully implemented a policy of 'bringing the consular services to our doorsteps'" said community leader Dr. Navin Mehta, "We are going to miss his down-to-earth approach in connecting with all sections of Indian Americans."
Prof. Indrajit Saluja, Chief Editor of The Indian Panorama wondered how one man could have so many diverse qualities of head and heart and commented that God must have created Mr. Mulay with some special stuff. Turning to Mr. Mulay, he said, "you are leaving a rich legacy behind. You will always be remembered for the great work you have done here as Consul General and also for being a perfect gentleman".
A plaque was presented to Mr. Mulay by Attorney Anand Ahuja on behalf of GOPIO.
Two days later, on February 16, the Indian American community organizeda farewellevent at Royal Albert's Palace in Fords, New Jersey. Known for his literary talents the community recognized him as an officer who transformed the way passports and visa applications were handled under his watch.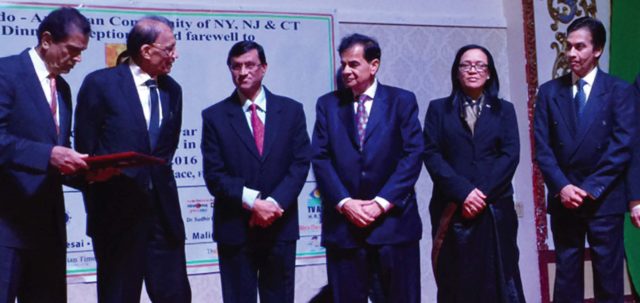 Those who acknowledged Mulay's contribution as a 'man of action', included Ramesh Patel, Chairman, Federation of Indian Association, H. R. Shah, Chairman, TV Asia, Dr. Navin Mehta, Trustee, Bharatiya Vidya Bhavan and Dr. Sudhir Parikh, Chairman, Parikh Worldwide Media, all of who said that the consulate staff was more efficient than ever. Mulay on his part disclosed his style of functioning as that of a leader who cared for his subordinates. He pointed out that his staff needed a new vision in order to become more productive. "On the first day of my work, I called a few of my staff and asked them to give their opinion about a painting hanging on the wall. All of them said there was nothing wrong with the painting. Then I turned the painting upside down and asked them what they thought of it. All of them pointed out that the painting looked much better than before."
Mulay narrated the above incident to bring home the point that it was possible to improve things without making a worker feel guilty. "I applauded my staff and showed them a different way to be more productive. A marked improvement in the functioning of the consulate was visible soon", he said.
Issuing timely visas and processing applications for new passports are the most important responsibilities carried out by consulates. Any pitfall in discharging such duties is bound to bring bad reputation for the office of the Consul General. Mulay realized this fact and quickly implemented an ambitious plan to expedite applications for visa, OCI and OPI. He was promptly assisted by Dr. Manoj Kumar Mahaptra, whose youthful attitude sparked new energy among the consular staff.
"We are proud to say that we process all applications within a day or two", said Mulay in his speech at the farewell function. His vision was to project the New India House, the consulate premises, into a center for cultural and intellectual activities. "We held more than 200 events in a year", he said adding that his office aimed at encouraging all sections of the community within its resources.
The monthly lecture series launched by Mulay on various current topics in art, literature, journalism and judiciary were well appreciated in the cultural circle of New York. The consulate hosted high-ranking officials
from the State Department such as Nisha Desai Biswal,Assistant Secretary, Bureau of South and Central Asian Affairs and high profile New Yorker such as Salman Rushdie.
Mulay is returning to New Delhi, where he will be responsible for the Affairs of Overseas Indians. "I hope to continue working with you"; he proclaimed demonstrating his deep interest in contributing for the progress of India with the help of Indian Americans. For the past year he initiated outreach initiatives to connect with people of Indian origin in various states of USA, which fall under his jurisdiction. He established good working relations with a number of officials including the Governor of Massachusetts Charlie Baker who sent a proclamation for Mulay.
The farewell event was hosted by a host of community organizations including FIA, GOPIO, AAPI, Bharatiya Vidya Bhavan, and others. A plaque was presented to Mulay on behalf of FIA. Andy Bhatia, a former Air India official conducted the event.