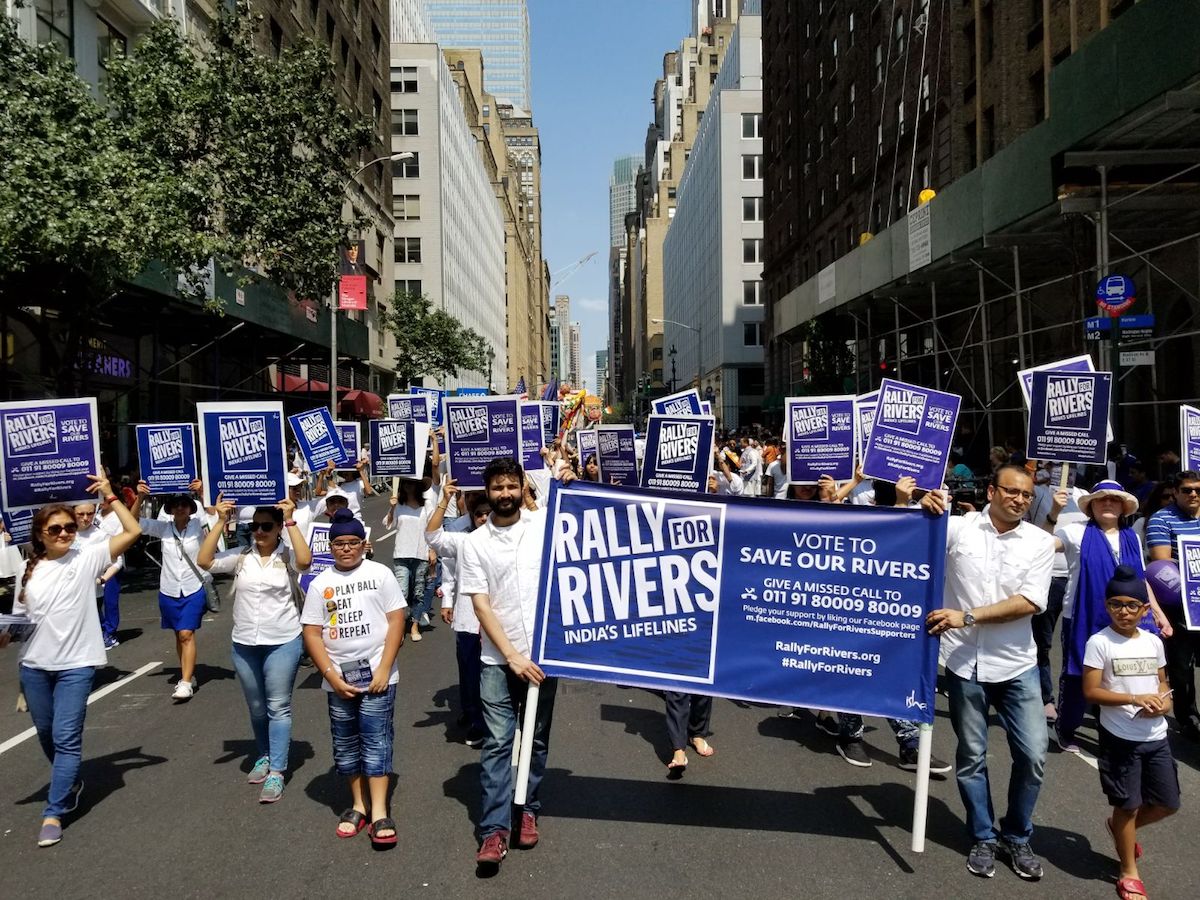 Rivers are India's Lifelines, We must protect rivers, lest we have deserts
By Mabel Pais
Water is one of the most fundamental requirements for life.
Every year, on India's Independence Day, resident Indians and the worldwide Indian diaspora, are reminded of our duty to our country of origin, our heritage, our motherland.
"Everyone who consumes water must #Rally for Rivers," tweeted Sadhguru, Founder, Isha Foundation, while launching the people's campaign to create awareness about the urgency to rejuvenate India's rivers.
India's rivers are facing a grave crisis. In just one generation, the perennial rivers are turning seasonal. Many smaller rivers have already vanished. Almost every major river has become a point of conflict between states. Water is one of the most fundamental requirements for life.
If we do not act now to reverse this dire situation, the legacy we hand over to the next generation will be one of conflict and deprivation.
An expert committee of environmental scientists and lawmakers are in the process of drawing up a comprehensive policy document. The draft policy suggests a very simple yet effective means to replenish our rivers – to create a kilometer-wide tree cover on riversides (and half a kilometer for tributaries). Forest trees can be planted on government land, and tree-based agriculture on farm land. This will ensure our rivers are fed throughout the year by the moist soil, and will also reduce floods, drought and soil loss.
 In consultation with Isha Foundation, the Government of Madhya Pradesh has started a mass movement aimed at building awareness and planting trees, among other things with the aim of rejuvenating the Narmada River. On 1st July 2017 Isha Foundation signed a Memorandum of Understanding with Government of Maharashtra to rejuvenate the Godavari River and facilitate plantation of 50 crore trees.
To create mass awareness, Sadhguru will himself drive from Kanyakumari (southern India) to the Himalayas (northern India) through 16 states. The campaign will include 21 major events and numerous smaller events, both online and off-line, to touch every segment of society. As a mark of support, 13 Chief Ministers have confirmed participation in the Rally for Rivers events. The rally will be flagged-off by Union Minister of Environment, Forests & Climate Change, Honorable Shri Dr Harsh Vardhan on 3rd September in Coimbatore and will culminate in New Delhi on the 2nd October in the presence of political, policy, business, film and sport leaders from across India.
Rally for Rivers is expected to garner support from millions of people by generating missed calls on a toll free number (011 91 80009 80009) as a mark of people's support to a comprehensive policy to rejuvenate rivers. A massive awareness campaign is underway driven by youth, members of the Panchayats and volunteers of Isha Foundation across India.
Rally for Rivers has received an overwhelming response which cuts across political parties and people from all walks and segments of the society. The campaign has also been supported by Border Security Force, IFFCO, IRCTC, Karnataka Bank, Retailers Association of India, World Aqua Foundation, Micro Finance associations, Indigo Airlines, DAV Schools, Spic Macay, Educomp Solutions in addition to 30 corporate companies.
Celebrities from all walks of life – leaders of various political parties, religious leaders, Bollywood, Kannada, Telugu, Tamil film actors, Cricketers and Corporate heads, all have pledged their support to Rally for Rivers on Twitter.
Actor Juhi Chawla tweeted supporting Rally for Rivers with an appeal to give a missed call on (0 11 91) 80009 80009. Apart from her, Anupam Kher, Rishi Kapoor, Madhoo, Dia Mirza, Manoj Bajpayee, Rakeysh Omprakash Mehra, Shekhar Kapur, Tanisha Mukherjee, Master Chef Sanjeev Kapoor also expressed their support amongst many others.
Malayalam Superstar Mohanlal on social media site Facebook, shared a video of Sadhguru speaking with school children about Rally for Rivers and said that "I was really moved, watching this video that strives to bring awareness of the plight of our rivers in the coming 20 years time. Dear friends, it's time we worked together to revive these lifelines of our very own existence. I request you all to act now and show your solidarity towards this noble campaign. All you need to do is give a missed call to the number (0 11 91) 80009 80009. Together we shall save our rivers and bring them back. #RallyForRivers"
Kannada Actors: Puneeth Rajkumar, Ganesh; Tamil actors – Vivek, Suhasini Maniratnam, Raadika, Partheipan also came forward to express their support. Biocon CMD, Kiran Mazumdar tweeted "A great citizens' movement let by Sadhguru" in support of #RallyForRivers. Anand Mahindra, Executive Chairman of Mahindra Group said, "We will be along with you for the ride Sadhguru, time not for river rafting but River Rallying."
Dr. Mohan Bhagwat – Chief of RSS retweeted Sadhguru's tweet saying, "We are with you in this mission." Chief Imam of All India Imam Organisation – Imam Umer Ahmed Iliyasi with his photo with Sadhguru extended his full support and prayed for the noble cause on twitter.  Sadhguru later tweeted that "Everyone who consumes water must #RallyForRivers. Let us make it happen."
Creative writing and art competitions on the need to reviving India's rivers and possible solutions have kick-started in over 100,000 schools in India in partnership with Educomp Solutions, DAV Schools, Vidya Bharati Schools, Camlin and Nickelodeon India. In each of these schools, the Nadi Stuti or the river chant, will be played in the assembly followed by an appeal from Sadhguru and Virender Sehwag. Rally for Rivers is also starting a national short film competition in association with Shekhar Kapur, Rakeysh Omprakash Mehra and Prahlad Kakkar.
In what was one of the largest human formations, Sadhguru with over 6000 Isha volunteers came together in the shape of India's map on 9th July to launch the campaign.
In the USA, Rally for Rivers'  supporters have done their part to support the campaign.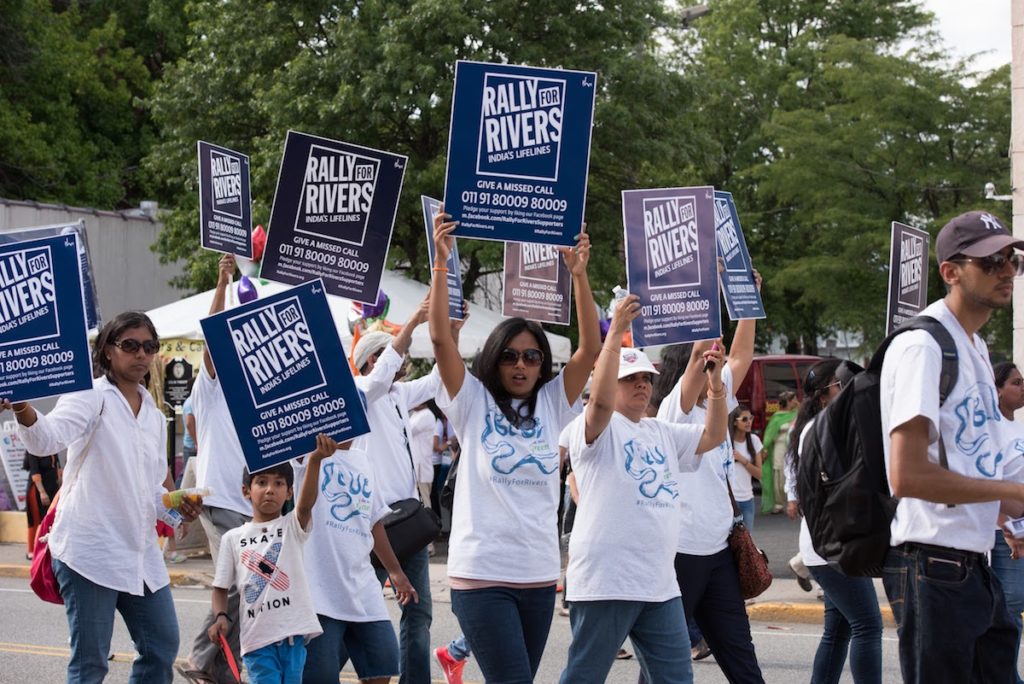 In Edison, NJ, around 30 people, kids & adults Rally for Rivers enthusiasts joined the India Day Parade in Edison, NJ on Aug 13th.  They walked with the Rally for Rivers banner and waved the posters in sync with Nadi Stuti which has been rendered by Sadhguru.
The volunteers distributed flyers to onlookers and enthusiastically urged them to give a missed call. At the end of the march, the master of ceremonies announced the group and the Rally for Rivers (RFR) initiative.
At the Chicago, IL, India Day Parade on 13th August about 40 strong, adults and children, "rallied for rivers" with T-shirts and the Rally For Rivers banner on the float held by volunteers. The announcement made about the RFR initiative during the parade, urging people to give a missed call, was well received.  Those who attended the parade were appreciative of the initiative and were willing to share the news among their communities.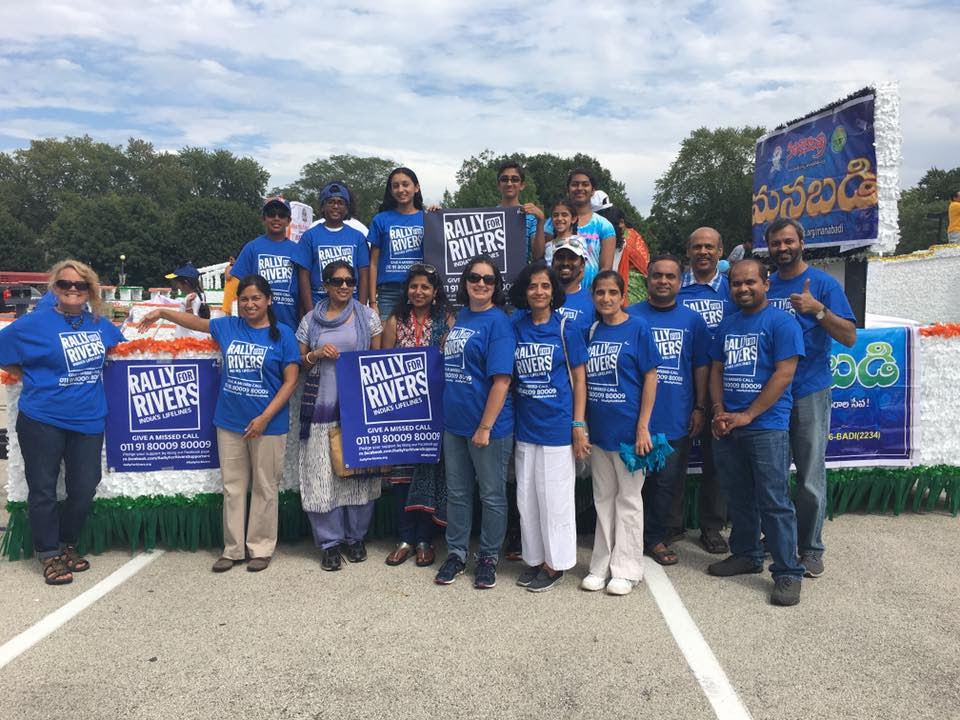 A similar RFR initiative was held at another Independence Day parade in New York city on August 20.  About 60 volunteers marched in support of the rally, waved RFR posters and distributed RFR flyers to onlookers.
 For more details on Rally for Rivers, contact:
(Rajashree Kotekar, [email protected]. 732 586 4323)
(The author Mabel Pais is a freelance writer.  She writes on the arts and entertainment, health and wellness, social issues and spirituality)