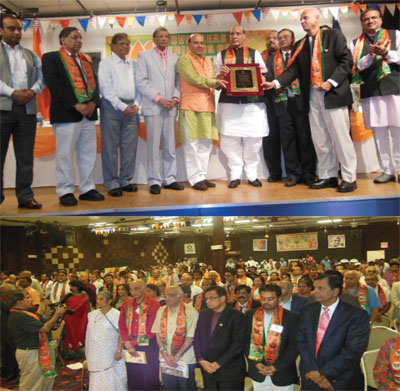 EDISON, NJ (TIP): Indian American community of tri-state area (New Jersey, New York, and Connecticut) gave a rousing welcome to Rajnath Singh, President of Bharatiya Janata Party (BJP) and his BJP delegation Ananth Kumar, General Secretary; Sudhanshu Trivedi, National Spokesperson; and Vijay Jolly, Convener of Overseas Affairs and Overseas Friends of BJP (OFBJP) in TV Asia Studio Auditorium at Edison, NJ on Sunday July 21, 2013. The program was organized by OFBJP-USA as part of its community global outreach program.
The program was broadcasted live on TV Asia across US reaching out to 1.5 million viewers. The program was also relayed live in India, Canada, UK, Europe and Middle East thru various channels. Addressing the jam-packed auditorium, Rajnath Singh said that he was elated by the warm welcome that had been accorded to him by the Indian Americans here in US. He said that trust and credibility have become a big problem in India and BJP is the only option. No party in India has grown bigger than Congress except the BJP.
BJP is the only party that has not suffered a vertical split. Communists have lost relevance and Congress has no policy on any of the issues nor has any ideology. Since its inception in 1951 as Bharatiya Jan Sangh and later on as BJP, the party has been pursuing a policy of Nation first. He continued that Atal Behari Vajpayee led a 24 party coalition for 6 years and the NDA rule was far better than 55 years of Congress rule in every aspect.
Corruption, Inflation and price rise are the signature of congress rule whereas NDA government controlled the inflation and price rise in spite of the prevailing severe drought and economic sanctions imposed by the entire West after Pokhran nuclear tests. NDA inherited a GDP growth of 4.8% and 10% inflation whereas BJP handed UPA a GDP of 8.4% and inflation 3.5% in 2004. Amidst applause from the audience he said that Pokhran test was a big step wherein the BJP led govt made India a nuclear power even though we knew economic sanctions were staring at us.
Countries that are much smaller have become developed countries but India is still a backward country and not sure why 55 years of Congress rule did not change much. Congress has to answer as to how much time they need to make India better, to remove poverty. BJP invited FDI in telecom sector but encouraged Indian investors whereas Congress has opened up the telecom sector 100%, increased in the LIC sector from 26% to 49%. Foreign investors have pulled out $7.5 billion from India and no one is ready to invest.
Even after 60 years of Independence we still have 67% of people who don't get food and we need a food security bill. We need leaders with firm conviction and leaders with vision and when we come in power we will make India a super economic power in 10-15 years. National Highway development has seen tremendous growth during NDA rule. 50% of the highways that were built during 1980-2012 happened during 6 years of NDA rule and the other 50% were built during 26 years of non-BJP rule.
Gujarat development has become a role model across the world. Madhya Pradesh agricultural growth (19%) is the highest in the world and very soon will be providing 24hrs of power supply. Chhattisgarh PDS system serves 90% of the population without any corruption and is a model for other states to emulate. Goa is the only state in India where Petrol is cheaper than Diesel. India has a GDP growth of 4.8% whereas BJP ruled states have 10% GDP growth. UPA government has no plan to tackle Naxalism or terrorism.
Appeasement has become the state policy whereas BJP never links terrorism to any religion, caste or region. After Mumbai terror attack, Prime Minister made a statement that he will not talk to Pakistan until it gives an assurance that they will control terror activities and not support any groups that work against India but changed all that in a matter of few months. Our foreign policy is at its worst with no friendly neighbors around us. During NDA rule we maintained good relations with Russia and development excellent relations with US.
We made US our strategic partner. He appealed to the US govt to lift the ban on visa to Narendra Modi, he said on one side US agencies rate Gujarat as the best state and Modiji as an excellent administrator and on the other hand they deny visa to him. It will be better if US takes a decision soon as they will be forced to take a decision anyway later. When BJP comes to power we will make India a power of Rishi and Krishi (knowledge and Prosperity), he said. Indian culture influenced the world for thousands of years.
We never planned to dominate the world and even Swami Vivekananda came to Chicago on his own and had great influence on the world by his teachings. Citing the example of Newsweek columnist Lisa Miller who stated that by imbibing Yoga, Pranayam, Ayurveda and Organic farming people in the West are becoming Hindus whereas it is a crime in India if you say you are a Hindu.Talking on the recent controversy related to Narendra Modi statement that he is a Hindu and Nationalist, media created and pseudo secularists made a big fuss.
Professing your Hindu culture became a communal word in India. He said that as per the Supreme Court, Hindutva is a way of a life. Hindutva teaches love not only for human beings but even for animals, plants, rivers, mountains etc. It is Hindutva that teaches us to serve milk to a snake and take care of animals like ants and birds. He called on the Indian American Community to support BJP to build a strong India.
Shri Rajnath Singh was accorded standing ovation. Shri Rajnath Singh was honored by the OFBJP executive committee with a plaque for his contributions to the party and the country. Earlier, Ram Rakshpal Sood (Sr.Advisor, OFBJP) acting as the Emcee welcomed the audience, chief guests and the sponsors of the event. After the traditional lamp lighting ceremony amidst the chanting of Vedic mantras by Pandit Pravin Shastri and Chandrakant Trivedi and blowing of conch shell by Pravin Shashtri. Mrs. Vidya Labroo led the rendition of Vandemataram.
Jayesh Patel (President, OFBJP) welcomed the distinguished guests and said that entire India is chanting Narendra Modi (NaMo) mantra and expressed hope that BJP will be able to get majority on its own merit in the next election. Ram Kamath (General Secretary, OFBJP) introduced Dr. Mahesh Mehta, National Coordinator of OFBJP-USA. Speaking on the occasion, Dr. Mehta said that mission 2014 is about transforming India into a global leader and Global Indians should contribute to be the part of this great movement that will eventually contribute to the development of India.
Dr. Adapa Prasad (Immediate Past President) introduced Vijay Jolly, Convener of BJP Overseas Affairs and OFBJP, as a dynamic leader and former MLA who took on Delhi Chief Minister during the last election.
In his electrifying speech, Vijay Jolly urged the audience to applaud for Rajnath Singh for honoring the feelings of the people by making NaMo as the chairman of the campaign committee. Stressing the fact the OFBJP is on a mission to develop leaders by inducting youth into the organization to dethrone the corrupt Congress regime in India. Stating that NRI's have always made India proud, he said that OFBJP has setup its chapters in UK, Norway, Nepal, Kenya and other countries to work for the welfare of Indian diaspora.
He got the past Presidents of OFBJP-USA honored by Rajnath Singh Introducing SudhanshuTrivedi, BJP National Spokesperson, Dr. Dinesh Agrawal (Former- President, OFBJP) said that as the national spokesperson, he is very active effective on TV channels spreading the message and its ideology of BJP. SudhanshuTrivedi reminded that July 21st the day of the program is a historical day when US astronauts landed on the moon. Edison town, the venue of the program, is also a historical town, named after the inventor of light bulb.
Hence, he said that word Bharat stands for light and inspires us to take India to the pinnacle of glory. Stating that BJP is all set to form the next government is not based on hope but on facts. He concluded reciting a poem by A.B. Vajpayee. R.P. Singh (Org. Secretary, OFBJP) introduced Ananth Kumar, BJP general Secretary. Amidst thunderous applaud from the audience, Shri Ananth Kumar introduced himself as the Hanuman of South as Kishkinda, the birth place of Lord Hanuman is in Karnataka whereas Rajnath Singh is from U.P, the land of Ram. For Ram's team to win we need Hanuman and he is there to lend services for the party and the country.
India, he said is going through turbulent times and like A.B. Vajpayee model, we have Gujarat model of development under NaMo leadership and we will soon have NaMo model of governance. He said that BJP is already in battle mode, under NaMo and Rajnath Singh's leadership we are all set to take on the corrupt congress government. Once in power, BJP will make India a global player not only in spirituality but in culture, strategic matters and will be a decisive player in the world. He urged the NRI's to connect with their districts back home and work for BJP's victory in 2014.
Chandrakanth Patel introduced Rajnath Singh as a man of impeccable image in spite of being in political life for 40+ years. Born in a farmer's family in Varanasi, he rose to be the president of BJYM. He was part of the J.P movement and became the Agricultural minister in A.B. Vajpayee's government. He was the President of BJP between 2007-2009 and again became the President in January, 2013.
Currently, he is a Member of Parliament from Ghaziabad, U.P. Earlier, the President of TV Asia and a well known community leader, Shri H.R.Shah addressed the gathering and said that TV Asia always supported India causes and he has been an admirer of Mahatma Gnadhi and Sardar Patel. He said he felt close to BJP principles and supported BJP. He wished that Narendra Modi would be elected as the Prime Minister. Krishna Reddy (Treasurer, OFBJP) presented the vote of Thanks.