NEW YORK (TIP): The day after the election victory of President-elect Donald Trump, protesters took to the streets in cities across the country, expressing anger and resistance. Thousands marched in New York, Los Angeles, Boston, Chicago, San Francisco, Philadelphia, Seattle, Washington DC, Portland, Ore, St. pau, Minn. and more, chanting and carrying signs. Tens of thousands filled the streets in at least 25 USA cities to protest Donald Trump's victory. In some major cities, the protests continued Thursday too.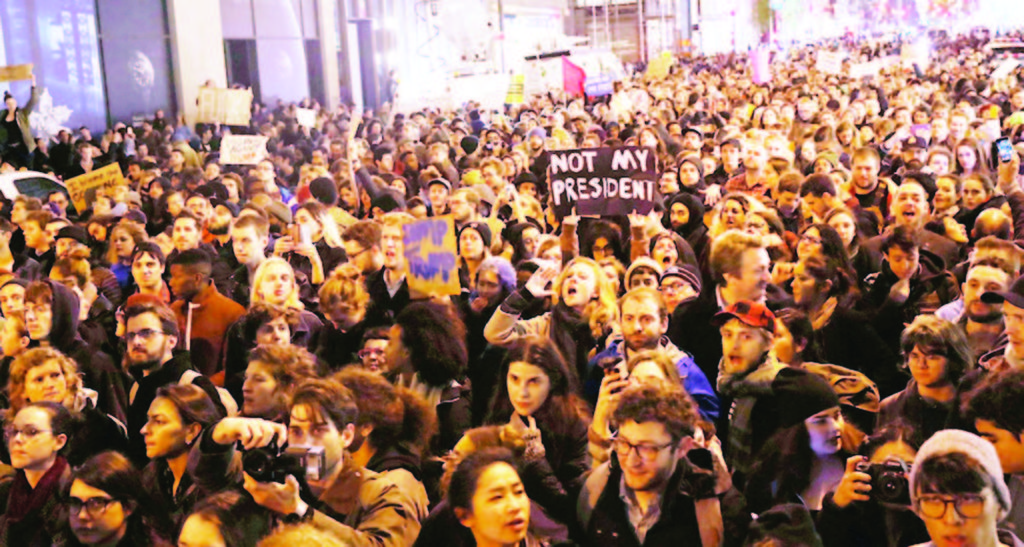 The protests ranged from peaceful candlelight vigils to more destructive demonstrations, particularly in California, where freeways were shut down and cars and effigies burned in Oakland and L.A. The protesters' point: that Trump, with his history of racist and sexist rhetoric, does not represent the American people. That's true in some ways. Though there is no question that Trump's election is legitimate, he won-as many other presidents have won-by very narrow margins, and he is currently losing the popular vote after securing the Electoral College. Though that fact might be painful to millions of Americans, they can take this comfort: Split and troubled as it's been, their nation has not changed.
In New York City about 5,000 people protested his victory outside Trump Tower near the busy intersection of 57th Street and Fifth Avenue and blasted his campaign rhetoric about immigrants, Muslims and other groups. They included pop star Lady Gaga, a staunch Hillary Clinton supporter.
Taxis, city buses and passenger vehicles stood at a standstill as the protesters clogged streets in Manhattan. At least 15 protesters at Trump Tower were arrested Wednesday, November 9 night for disorderly conduct, New York police said.
In Washington DC protesters from the group Avaaz displayed a "Better Than Bigotry" sign outside the White House. Hundreds took to the streets carrying signs saying "Nasty Women Fight Back" and "White Males for Equality for All." Activists chanted, "No Trump, no KKK, no fascist USA," as they marched downtown to the Trump International Hotel.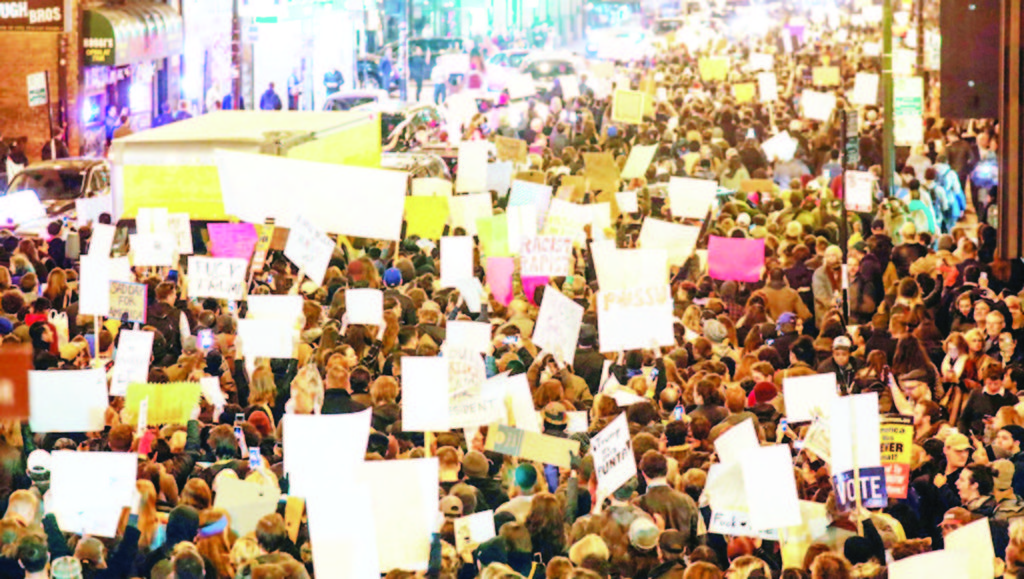 In Chicago, protesters marched down Lake Shore Drive toward the Trump Tower. They gathered near the Trump International Hotel and Tower holding signs with messages such as "Love Trumps Hate," "Not My President." Chicago Police said five people were arrested in Chicago over the course of the protest.
In Los Angeles protesters burned Donald Trump effigy where more than 1,000 protesters rallied outside Los Angeles City Hall. Later in the night, hundreds marched onto the busy 101 Freeway, which brought the highway to a complete standstill. About 2,000 protesters shouted angrily in downtown Seattle, chanting "Not My President" and "No Racist USA." In Oregon, dozens of people blocked traffic in downtown Portland and burned American flags.
Among the demonstrators earlier on Wednesday were hundreds of high school and college students who walked out of class in cities including Seattle, Phoenix and San Francisco's Bay Area. Many college students and faculty leaders took to social media to announce support groups and even postponed exams.