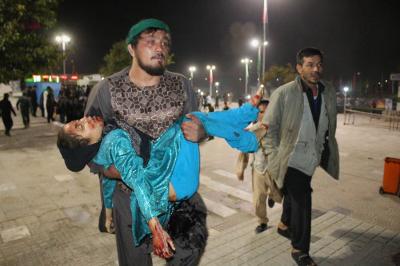 MAZAR-I-SHARIF (TIP): At least 14 Shiites were killed on Oct 12 in a powerful blast at a mosque in northern Afghanistan, the second deadly attack on the minority in as many days during the major festival of Ashura.
"The explosion happened at the gate of the Shiite mosque in the centre of Balkh district (in Balkh province)," said the provincial governor's spokesman Munir Ahmad Farhad, adding that 14 people were killed and 28 injured.
His account was confirmed by the provincial deputy police chief.
The blast came as the Islamic State group claimed responsibility for twin attacks in Kabul on Tuesday that also targeted Shiites, killing up to 18 people and wounding dozens.
Witnesses said gunmen entered the Karte Sakhi shrine near Kabul University late Tuesday, firing indiscriminately on men, women and children as they tried to flee. The interior ministry said one was wearing a suicide vest.
At the same time, another attacker entered a nearby mosque and took an unspecified number of people hostage as they were commemorating Ashura, the ministry said.
The UN called the attack an "atrocity" and put the toll at 18, though the interior ministry later said it was 16.
The threat of attacks on Shiites was considered particularly serious during Ashura, and many foreign embassies in Kabul had restricted staff movements until the end of the week.
Ashura, marked on Wednesday, commemorates the death of Imam Hussein, grandson of the Prophet Muhammad, who was assassinated in the year 680 and whose tragic end laid the foundation for the faith practised by the Shiite community.
For Shiites around the world, Ashura is a symbol of the struggle against oppression.
In 2011 about 80 people were killed and more than 100 wounded when a suicide bomber struck a gathering of Shiites during Ashura in the heart of Kabul.
Grieving worshippers today described desperately trying to shelter their children against a hail of gunfire during the Kabul attacks.
One mother who gave her name as Saleha told AFP of a gunman who was "killing everyone". She was shot in the leg as she tried to protect her child.