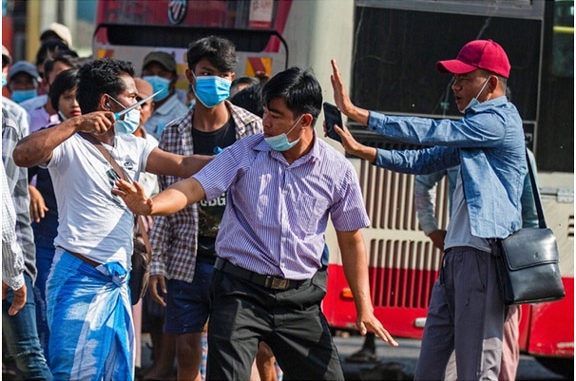 Yangon (TIP): Supporters of Myanmar's military, some armed with knives and clubs, others firing catapults and throwing stones, attacked opponents of the February 1 coup on Thursday, while Southeast Asian neighbours looked for ways to end the crisis. Myanmar has been in turmoil since the army seized power and detained civilian government leader Aung San Suu Kyi and much of her party leadership after the military complained of fraud in a November election. Protests and strikes have taken place daily for about three weeks, and students had planned to come out again in the commercial hub Yangon on Thursday.
But before many coup opponents congregated, about 1,000 supporters of the military turned up for a rally in the city centre.
Some threatened news photographers, media workers and witnesses said, and scuffles soon escalated into more serious violence in several parts of the city.
Several people were set upon and beaten by groups of men, some armed with knives, others firing catapults and hurling stones, witnesses said. At least two people were stabbed, video footage showed.
In one incident, several men, one wielding a large knife, attacked a man outside a city-centre hotel. Emergency workers helped the bloodied man after his attackers moved off but his condition was not known.
"Today's events show who the terrorists are. They're afraid of the people's action for democracy," activist Thin Zar Shun Lei Yi told Reuters.
"We'll continue our peaceful protests against dictatorship." The violence will compound worries about a country largely paralysed by protests and a civil disobedience campaign of strikes against the military.
Earlier, police blocked the gates of Yangon's main university campus, stopping hundreds of students inside from coming out to demonstrate.
Facebook said that due to the risks evident from the "deadly violence" seen since the coup it had banned the Myanmar military from using its Facebook and Instagram platforms.
The spokesman for the ruling military council did not respond to a telephone call seeking comment.
The security forces have shown more restraint compared with earlier crackdowns against people who pushed for democracy during almost half a century of direct military rule.
Military chief General Min Aung Hlaing says authorities are using minimal force. Nevertheless, three protesters and one policeman have been killed in violence. Reuters