An Indian bar owner helped catch Afghani American Ahmad Khan Rahami, the man accused in the weekend bombings in New York and New Jersey in which 29 people were wounded.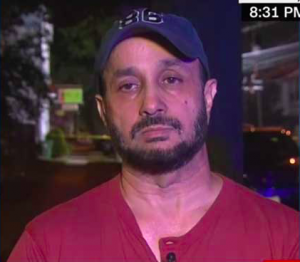 Harinder Bains saw Rahami sleeping in the doorway of his bar in New Jersey around 9 am on Monday, a hoodie pulled over his head.
Mr Bains said he thought it was "some drunk guy" but when he woke him, he recognized him as the man whose face had been flashed on repeat as the bombing suspect.
The businessman had just seen Rahami while watching TV news on his laptop. He walked to his other store across the street and called the police.
"I'm just a regular citizen doing what every citizen should do. Cops are the real heroes, law enforcement are the real heroes," said Mr Bains, who, news reports said, was being praised as a "#hero".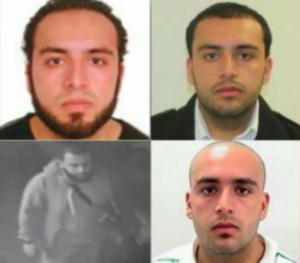 When the police came, Rahami pulled out a gun and started firing, shooting an officer in the chest. Rahami made a dash for it and shot at a police car, leaving another policeman injured.
The chase ended when the 28-year-old suspect was shot multiple times. He was taken away on a stretcher.
Mr Bains's bar is about 5 km from where the New Jersey police had found a backpack containing bombs.
Indian-American attorney Ravi Batra told the Press Trust of India: "It turns out that the Chelsea Pressure Cooker Bomber suspect, a naturalised citizen, is caught by another immigrant, an Indian-American hero Sikh."
---
Ahmad Khan Rahami connection to the bombings
• Investigators first identified Rahami Sunday afternoon through a fingerprint, according to a senior law enforcement official. A cell phone connected to the pressure cooker also provided some clues, the official said.
• Investigators "directly linked" Rahami to devices from New York and from Saturday's explosion in New Jersey, FBI Assistant Director in Charge William Sweeney said Monday, sep 19. He declined to provide details about the evidence, citing the ongoing investigation.
• According to multiple officials, investigators also believe Rahami is the man seen on surveillance video dragging a duffel bag near the site of the New York explosion, and the location where police eventually found a suspicious pressure cooker four blocks away.
• Rahami's last known address was in Elizabeth, New Jersey, the FBI says. That's the same city where a backpack with multiple bombs inside was found Sunday night, but so far authorities haven't publicly said whether they believe Rahami is linked to those explosives. Sources say they believe he is.
---
Who is Ahmad Khan Rahami 
• The 28-year-old was born in Afghanistan and is a naturalized US citizen, according to the FBI.
• He traveled to Afghanistan multiple times, according to law enforcement sources. He was questioned every time he returned to the United States, as is standard procedure, but was not on the radar as someone who might have been radicalized, one official said. Another official said Rahami traveled overseas a good bit, visiting other countries.
• Rahami spent several weeks in Kandahar, Afghanistan, and Quetta, Pakistan in 2011, according to a law enforcement official who reviewed his travel and immigration record. Quetta is considered a stronghold of the Taliban. While there he married a Pakistani woman, in July 2011.
• Upon his return to the United States, he had to go through secondary screening because he visited an area of Pakistan known for its Taliban presence, according to the official. At that time, he told immigration officials he was visiting family and attending his uncle's wedding and renewing his Pakistani visa.
• Two years later, in April 2013, Rahami went to Pakistan and remained there until March 2014, the official said. Two other law enforcement officials confirmed to CNN that Rahami went to Pakistan for approximately a year.
• His brother Mohammad traveled to Pakistan around the same time. Mohammad posted on Facebook at the time that while in Quetta they had heard seven bomb blasts over 24 hours at one point, according to CNN's review of the page. Another posting during the trip is a photo of his brother Ahmad.
• During that time the official says Ahmad traveled by car to Afghanistan as well. When he returned to the United States he was once again taken into secondary questioning and told officials he was visiting his wife, as well as his uncles and aunts. The official said each time he was taken to secondary screening, he satisfied whatever concerns immigration officials had.
• The official says he was petitioning to bring his wife to the United States. He filed the paperwork in 2011 and it was approved in 2012. But the official said it was unclear if she ever came to the United States.
• In 2014 Rahami contacted Congressman Albio Sires' office from Islamabad, Pakistan saying he was concerned about his wife's passport and visa. It turned out her Pakistani passport had expired and the consulate wouldn't give her an immigrant visa until the passport was renewed, Sires said.
• Once the passport was renewed she found out she was pregnant and they told her they wouldn't give a visa until she had the baby, Sires said. They also told her when she had the baby they had to get an immigrant visa for the baby. At point Rahami claims the consulate told him to go back to Karachi, but he claimed it was too dangerous to go there. The congressman doesn't know what happened after that.
• Investigators are looking into whether he was radicalized overseas before returning to the United States in 2014, according to the official. On Monday, law enforcement said so far there is no indication he was on their radar before the weekend.
• The law enforcement official says Ahmad Rahami became a naturalized US citizen in 2011. He first came in January 1995, several years after his father arrived seeking asylum. The official says Rahami was given a US passport in 2003, while a minor, and again in 2007 after he said he lost his first one.
School and family in the United States
• He majored in criminal justice at Middlesex County College in Edison, New Jersey, school spokesman Tom Peterson said. Rahami attended the college from 2010-2012 but did not graduate.
• Rahami's family lives above First American Fried Chicken in Elizabeth, the city's mayor says. The family has a history of clashes with the community over the restaurant, which used to be open 24 hours a day, Mayor Chris Bollwage said. Investigators searched the building Monday, Bollwage said.
• The Rahami family alleged discrimination and harassment in a lawsuit filed against the city and its police department in 2011, arguing that officials conspired against them by subjecting them to citations for allegedly violating a city ordinance on hours of operation.
• The suit alleged that police officers and city representatives had said "the restaurant presented a danger to the community." It also accused a neighboring business owner of saying, "Muslims make too much trouble in this country" and "Muslims don't belong here." The defendants, including police officers and city officials, denied the allegations.>
• Bollwage said Monday the 2012 ruling on the case favored the city, adding that the family's restaurant was "disruptive in the city for many, many years."
• In a Facebook post Monday, a family member asked for privacy.
"I would like people to respect my family's privacy and let us have our peace after this tragic time," wrote Zobyedh Rahami, who's believed to be Ahmad Rahami's sister.