NEW JERSEY (TIP): 12 people have been charged with first-degree money laundering and other crimes in a joint federal and state investigation targeting an elaborate fraud scheme in which the defendants allegedly used fictitious identities to obtain credit cards and open bank accounts which they used to steal approximately $3 million from various banks.
They were among a dozen foreign nationals and U.S. citizens charged with money laundering this week in a crackdown on an "elaborate" credit card scheme, acting Attorney General John Hoffman announced Wednesday, December 09.
The accused – some of them family members, some business associates living mostly in Hudson County – stole millions by passing bad checks and making phony credit card payments, authorities claim.
Each of the following 12 defendants was charged by complaint with first-degree money laundering, second-degree theft by unlawful taking, and third-degree fraudulent use of credit cards: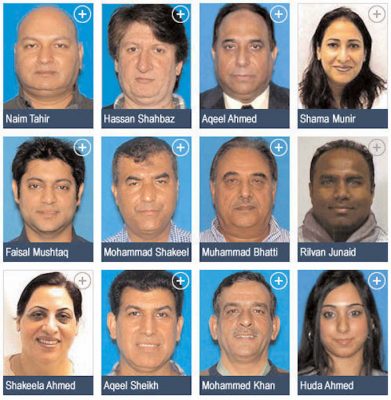 Naim Tahir, 47, of Clark
Hassan Shahbaz, 42, of Jersey City
Aqeel Ahmed, 60, of Secaucus
Shama Munir, 49, of Secaucus
Faisal Mushtaq, 37, of Secaucus
Mohammad Shakeel, 46, of Jersey City
Muhammad Farooq Bhatti, 64, of Jersey City
Rilvan Junaid, 49, of Spring Valley, N.Y.
Shakeela Ahmed, 56, of Secaucus
Aqeel Sheikh, 54, of Secaucus
Mahamed Khan, 53, of Piscataway
Huda Ahmed, 27, of Secaucus
Charged with first degree money laundering, they face up to 20 years in prison. All 12 defendants have been arrested and are being lodged in the Union County Jail with bail for each set at $1 million, no 10 percent option.
The defendants, many of whom live in Secaucus and Jersey City, allegedly created "synthetic" identities by pairing real Social Security numbers with fictitious names and birth dates, using them to open numerous checking and credit card accounts.
They allegedly opened the accounts online so as to avoid face-to-face interaction with the financial institutions. Bad checks were deposited into the bank accounts so that the accounts could be used to make payments on the credit cards, which temporarily inflated the lines of credit on the cards. In addition, funds were withdrawn from the bank accounts via ATM and U.S. Postal Money Order Purchases before the bad checks were discovered.
It is alleged that the defendants ultimately "busted out" the credit cards by running up the unpaid balances until they reached or exceeded the credit limits. The scheme included a group of
"merchants" who in many cases allegedly ran shell businesses set up solely for the purpose of participating in this fraud. The merchants allegedly swiped the fraudulent credit cards using point of sale terminals and received reimbursement from credit card processing companies via wire transfer, while never actually providing any merchandise or services.
The ring members allegedly split the proceeds. The bank accounts of the shell companies set up by the merchants also allegedly were used to launder the proceeds of the scheme, with checks being written from one company to another as if they were conducting business.
Naim Tahir, of Clark, allegedly was primarily responsible for creating the synthetic identities and applying for the bank accounts and credit cards used in the fraud. Shahbaz is the owner of USA United Trading, a business in Jersey City that he allegedly opened for the sole purpose of defrauding financial institutions. It is alleged that USA United Trading conducted approximately $1.6 million in fraudulent credit card transactions over the past 22 months. USA United Trading held itself out as a carpet retailer, with a store front at 150 Monticello Avenue in Jersey City that had several rolled up carpets in the window.
"While the credit card holders, businesses and purchases in this scheme were fictitious, the losses suffered by the banks were very real and totaled an alarming $3 million," said New Jersey Acting Attorney General John J. Hoffman.
"Between 2012 and 2015, these defendants allegedly obtained hundreds of credit cards with fake identities, engaging in millions of dollars in phony transactions at a network of shell businesses, most of which were created solely to commit this fraud," said Director Elie Honig of the New Jersey Division of Criminal Justice.
The charges are merely accusations and the defendants are presumed innocent until proven guilty.