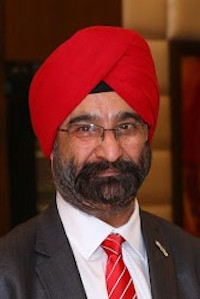 NEW YORK (TIP): Global Indian Trade and Cultural Council, USA in collaboration with Consulate General of India, NY has started a Webinar series. The first webinar is scheduled for June 1st, 2020 on Augmenting US India Healthcare Relations under Covid Challenge. This will have professionals from Covid 19 vaccine manufacturing companies,  IT company Birlasoft who specialize in  healthcare software, distinguished Professors from Harvard, Johns Hopkins and Panjab University, Pharmaceutical Scientist from NIPER, India, Ex Director Organization of Pharmaceutical Produces of India, Banker and Media professional, according to Mr. H.S. Panaser, Chair, Global Indian Trade and Culture, USA.
Speaking to The Indian Panorama on the need for  series of webinars to deal with the subject of  cooperation between the U.S. and India in the pharmaceutical sector, Mr. Panaser said: "The dependencies and inter-dependencies of globalization especially between US India,  have been in headlines during the COVID-19 pandemic—and nowhere more so than in the Healthcare segment. More so, in pharmaceutical industry. We don't yet know how the medicine and vaccine challenge will end. Whether it be avipiravir, remdesivir or something else. It is unclear which drug, if any, will work. It  may be an Indian company Bharat Biotech or American company or an Oxford lab that is hailed as a hero for a treatment or prevention, the task is not just about discovering a treatment or vaccine that works, but making it available to as many people as possible in as short a time as possible. Successful accomplishment of that task—especially in the global south is difficult to envisage without Indian involvement. COVID-19 ignores borders and the solutions to address it will need to overcome them too.
"Therefore, there was a need for a school of thought to bring on a platform from the field of Academia, Industry and Government, Mr. Panaser said.
Mr.  Panaser spoke at length about the Indian pharmaceutical scene and the healthcare sector. "The Indian healthcare sector is expected to reach Rs 19,56,920 crore (US$ 280 billion) by 2020. Rising income level, greater health awareness, increased precedence of lifestyle diseases and improved access to insurance would be the key contributors to growth.  Indian Pharmaceuticals is a sunrise industry with a competitive advantage for India globally. we should leverage India's position by unleashing entrepreneur spirit the bullish outlook for health care segment is now taking India in a forward momentum. The market size of India in Pharmaceuticals alone is estimated to be $100 billion and medical devices is $25 billion by 2025. Now with amendment in FDI policy where one can invest up to 100% specially if it is medical devices segment where India is importing 80% of medical devices", Mr. Panaser said.
"This webinar will discuss the US India Healthcare Relations to kickstart Exchange program of Student, research fellows in Universities, research institutes, Medical Colleges in the field of Pharmaceuticals, Medicine, Healthcare AI, MT by IT companies and Medical Devices.
'Such webinars will set a movement to spearhead collaborative mindset and a platform for FDI, mergers and joint ventures under Prime Minister Modi's $13 billion for three pharmaceutical parks in India and up to 100% FDI in Medical devices. Covid 19 has been an Eye opener – the present Government has done more in last   few weeks than what was done in years.
"Indian government has to make new policies for top Universities with research and institutes like National Institute of Pharmaceutical Education and Research with top scientist to allow them collaboration with public private partnership and to have India's best leadership.
The following is the list of people who along with Ambassador Sandeep Chakravorty are on the panel.
1.Mr. T. Srinivas, CFO, Bharat Biotech, Hyderabad, India
2.Mr. Sai Prasad, President QC, Bharat Biotech, India
3.Mr. Roop Singh, Chief Business Officer, Birlasoft, USA
4.Prof. Charles N Pozner, MD, Emergency Medicine, Harvard University, USA
5.Prof. Subroto Chatterjee, John Hopkins University of Medicine, USA.
6.Prof.(Dr) T.R. Bhardawaj , Vice Chancellor, Baddi University (Pharmaceuticals),India
7.Prof, (Dr) Pradeep Gupta, Burroghs Wellcome Professor of Pharmaceuticals, USciences, Philadelphia, PA, USA
8.Prof.(Dr) Saranjit Singh, Pharmaceutical Scientist, National Institute and Pharmaceutical Education and Research, Mohali, Punjab, India
9.Prof. (Dr) Kanwaljit Chopra, Chairperson, University Institute of Pharmaceutical Sciences, Panjab University, Chandigarh, India
10.Mr. Vivek Padgaonkar, Director- Project & Policy, OPPI (Organization of Pharmaceutical Producers of India)
11.Mr. Yash Dani, VP, Fulton Bank, NJ, USA
12.Prof. Indrajit Saluja, Editor, The Indian Panorama, NY, USA, Media
Moderator: H S Panaser, Chair, Global Indian Trade and Culture, USA