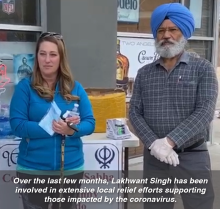 LAKEWOOD, CO (TIP) – Last week, the Sikh Coalition, the nation's largest Sikh civil rights organization, has called on the Jefferson County District Attorney's Office and the Lakewood County Police Department to pursue hate crime charges in an April assault in Lakewood, Colorado.
According to a press release, Mr. Lakhwant Singh, an observant Sikh American husband and father, was brutally attacked at the store he owns with his wife on April 29, 2020. That evening, Eric Breemen, entered the store and began harassing the Singhs: he damaged numerous items, shouted profanity, and repeatedly told the couple to "go back to your country." When Breemen finally left the store, Mr. Singh followed him outside to take a photo of his license plate so that he could report the abuse; Breemen then struck Mr. Singh with his vehicle, throwing him several feet across the parking lot, causing multiple injuries. Breemen then continued his crime spree by attacking two additional individuals in the area.
"No one deserves to be targeted because of who they are, and I hope that sharing my story sheds further light on the hatred and bigotry faced by Sikhs and others across the country," said Lakhwant Singh. "Colorado is my home, and I urge the authorities in charge of my attacker's case to demonstrate, through action, that crimes rooted in hate will not be tolerated."
On April 30, 2020, Breemen, who was on bond for prior offenses at the time of these crimes, was arrested for all the incidents. Subsequent to his arrest, Breemen referred to Mr. Singh as an "older Arab." Due to the significant injuries inflicted on Mr. Singh and his inability to be interviewed immediately after his attack, the investigation into appropriate charges, including a hate crime charge under Colorado's bias-motivated crime statute, is ongoing. Breemen's preliminary hearing date is scheduled for July 24, 2020, at which time charges will officially be brought.
"Mr. Singh remains in recovery after sustaining serious injuries during this attack, and was only recently transferred to a rehabilitation center," said Amrith Kaur, Sikh Coalition Legal Director. "We are in communication with the Jefferson County District Attorney's Office and the Lakewood County Police Department, and urge them to bring forth a formal hate crime charge against the defendant given the clear influence of bias in this case, in addition to all other applicable charges."