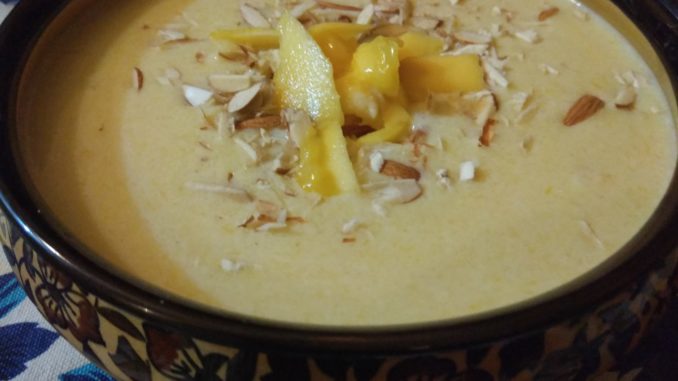 Phirni is a traditional Indian Dessert made with rice and milk. The first memory of this dish is associated with my grandmother who used to prepare it for all her grandchildren and served it in individual clay platters topped with lots of sliced almonds and pistachios. This simple yet delicious dish has undergone many versions.  Today's recipe is about its combination of phirni with Mango ' the king of fruits' which despite being great in taste is packed with nutrients as well. Mango is a great source of Vitamin A & C with lots of fiber. I am sharing with you the recipe of Mango Phirni which requires few ingredients available at our home. This recipe is cooked faster and hence a great option when you need dessert quickly.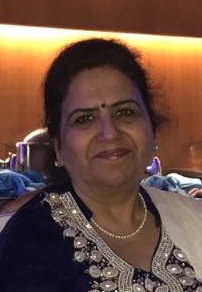 We need:
1 Liter full cream Milk
50 gm Rice soaked in water
40 gm Sugar or according to taste Green Cardamoms
1 cup Mango puree fresh or canned
20 Almonds sliced.
Here we go:                                                                                                                            By Tript Arora 
 Soak 50 gm of rice in water for half an hour. Drain water. Grind rice coarsely in a mixer.
Boil milk in a heavy bottomed pan. Add whole green cardamom so that we can take it out later.   Let it boil for 5 min on low flame stirring in between.
Add ground rice to milk and let it simmer on low flame till the rice are done and milk is thickened. Keep on stirring in between to avoid lumps. Meanwhile keep on scratching the milk which has struck to the sides of the pan and mix it in the phirni. This enhances the taste.
Milk needs constant attention as it sticks to the bottom and get burned.
Add half of the sliced almonds and keep rest for garnishing.
When the rice is cooked completely and blended well with milk switch off the flame. If phirni looks very thick you can add hot milk to adjust its consistency.
Let it cool completely. Add Mango puree to it.  It should be on the room temperature when you add Mango puree.
Pour it in a bowl and garnish it with sliced almonds. Refrigerate it for 2 hours.
Enjoy the cool Mango Phirni and beat the summer heat.
(The author is an entrepreneur by profession. Cooking for her family is the fuel for her soul. Her mantra is cooking simple, yet delicious recipes, which fit comfortably in today's hectic life. Her life revolves around her husband, a daughter and a fur baby. She loves spending time with them and enjoys watching comedy movies in free time. She can be reached at [email protected])
For more recipes by Tript Arora, visit www.triptasfoodtunnel.com