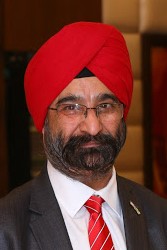 We are living in unprecedented times. The entire world is focusing on the coronavirus pandemic.  Legions have contracted the illness; many have died from it.  The virus surprised every sector of society and caught many people unawares and  unprepared. Health officials are working furiously to address and contain it.  But just as unprepared are families who do not know what their loved ones would want if faced with a serious or life-threatening illness. With life coming to a near standstill in America, it's time to have these important conversations with the people who mean the most to you. To ask them about the kind of medical care they want or don't want in times of serious illness.  If you haven't had those conversations yet, now is the time.
Our prayers are with the families currently dealing with COVID-19 and other serious illnesses, particularly those who have lost a loved one.  All of us in some way have been impacted by the uncertainties related to this dangerous virus.  For some, it means cancelled travel plans or events.  For others, it means lost work.  For those in healthcare, it means bracing for unknown clinical challenges.  For families with loved ones in senior care facilities, it means limited visits. I lost my father in law Professor Emeritus Harkishan Singh, Padma Shri awardee on March 20th. We as family could not join his final journey. due non availability of flights. We were  humbled to see the live coverage when this saint was, on special request,  brought to the Panjab University for the Faculty members  and students to pay their last respects before taking him to the cremation ground.
Future development between US India relations in Covid 19 era, as I see.
Both the United States and India will be key players in future developments in the medical supply trade relevant to the COVID-19 crisis, as each is a giant on the world stage in pharmaceutical production. India is the second largest exporter of pharmaceuticals to the United States and the United States is the largest exporter of medical devices to India. However, each has now put into place—or is considering—trade restrictions in these sectors. India has banned exports of certain active pharmaceutical ingredients in order to counteract recent interruptions in supplies from China and has just put into place a ban on exports of ventilators and surgical and patient masks. The United States is reportedly considering new "Buy American" restrictions on pharmaceutical products. Even before that, or in parallel, the United States and India should start their own coordination on trade matters relevant to the COVID-19 crisis. The two sides have already begun to reengage in their efforts to conclude a bilateral trade deal, following their failure to do so when US President Donald J. Trump visited India in February. Prospects for this deal remain very good given that the pending issues are no more than a handful and the ministers involved—US Trade Representative Robert Lighthizer and Indian Minister of Commerce and Industry Piyush Goyal—enjoy a strong rapport.
 When all is said and done, there is a strong likelihood that COVID-19 will have hit both the United States and India hard.  Even despite their differences, they share much in common as the two largest democracies in the world, which may make the challenges more difficult in steering public opinion towards social distancing and related preventative actions. The United States and India also have a deepening strategic relationship and their efforts to conclude a bilateral trade deal—even as difficult as that has been—suggest greater potential for expanding their collaborative work. More significantly, this is precisely the kind of situation that can test the potential for building out the relationship and contributing to a larger global response. Let a new initiative in the US-India partnership begin—one that can contribute to a global response to COVID-19.
It is of interest to understand the relationship between small companies and innovation / R&D in USA, India and China.
Countries that have competitive small & medium industries (Bulls Eye) witness a high degree of innovation. For example, the US has had 50% of all innovations and 94% of all radical innovations—since the Second World War—coming from new and small firms. The number of patent applications, another indicator for innovation, validates this theory further. Small & medium enterprises in China, which due to their low product prices have worried Companies around the world, file 80% of intellectual property applications in China, as compared to a mere 15% by Indian small & medium enterprises in India. An effective way to induce innovation among Indian small businesses is to adopt a programme like the Small Business Innovation and Research (SBIR), popular in the US and a few other countries. Under SBIR, governments disburse funds on a competitive basis to small enterprises and help them build their R&D capabilities. Improving R&D will boost innovation and make enterprises more competitive. As a result, they will generate higher employment and will be more productive with improved products and services. In fact, SBIR in the US has helped small businesses secure over 67,000 patents since its inception. Thus this segment will create a very  large number of employment, skill development and increase in infrastructure,  and  in totality boost commerce and GDP.
Indian Pharmaceuticals is a sunrise industry with a competitive advantage for India globally. we should leverage India's position by unleashing entrepreneur spirit the bullish outlook for health care segment is now taking India in a forward momentum. The market size of India in Pharmaceuticals alone is estimated to be US $100 billion and medical devices is  US $25 billion by 2025. In the year 2019 India did export worth 20 billion dollars alone and had crossed US $25 billion  in the first three months of 2020. The happy news for Indian Pharmaceutical industry in totality is now the amendment in FDI policy where one can invest up to 100% specially if it is medical devices as we are importing 80% of medical devices. India is looking towards undecisive growth tenure as 55 billion US dollar of product line is going off patents and this will certainly help India accelerate a higher market share and exports. 
As for Corona virus vaccine R&D under US India Relations, recently US Secretary of State  Mike Pompeo said that "US India were working together to develop vaccines for COVID-19 " The research of new vaccines has been in collaborative efforts between India and US going on for last three decades it has resulted in too stopping the fight against dengue, influenza and tuberculosis. Following are some of the examples of the latest research which is being conducted between USA and India:
 1. The Serum Institute of India, which is the world largest vaccine manufacturer, a 53-year-old company manufactures 1.5 billion doses annually with 1700 people. it exports 20 different vaccines to 165 nations of which majorities exports. the vaccine approximately costs about  50 Cent a dose. They have now collaborated with Codagenix  a US biotech company. The new vaccine is created by reducing the virulence or removing the harmful properties of a pathogen yet keeping it alive. The animal trials started in April and the human trials are expected by September end.
2. A Hyderabad based Bharat Biotech in partnership with University of Wisconsin and US based Flugen is to make a 300 million doses of vaccine for global distribution for COVID-19. this 450-crore rupee company earlier came up with a rotavirus vaccine at $1 a dose
3.Four other pharmaceutical companies each developing Covid vaccine  are in the early development phases: Zydex Cadila, Biological E, Indian Immunologicals and Mynvax.
In one of the interviews professor David Nabarro, at Imperial College UK said that humans will have to live with the threat of Covid for the foreseeable future because there is no guarantee that a vaccine will be successfully developed .
About the author
H.S. Panaser is Global Marketing and Business Development Consultant, Speaker and EDP Trainer. He is Founder and President of Global Indian Trade and Cultural Council. A strong and innovative leader with more than  three decades of experience in fortune 500 companies in Pharmaceutical, Medical Tourism and Food and Health segment in Global Marketing and CRM Management, he launched  several  new products which are brand leaders globally like Zantac, Ventolin etc. He represented Max, Fortis and many other hospital chains globally in Medical Tourism.  Presently,  he is a global consultant for Pharmaceutical and Medical devises manufacturers and software  in healthcare companies. He has a strong network of Angel Investors, Venture Capitalists and other Financial Consultants.  His Other affiliations and experience include  Chair, Tri-state US India Political Action Committee,  Ex-President, Global Haryana Chamber of Commerce, Advisor on Board, C3Summit International LLC, President, US SAARK Business Forum, , Director A I Nexus, President – Global Marketing NYSO, India and Member on Board, Automotive Aftermarket Industry Association, USA.
 He can be reached at  [email protected]      (Phone +1- 732-266-2027).