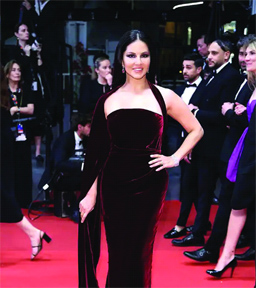 This is Sunny Leone's year and she is owning it and how. After a magnificent debut at the Cannes Film Festival in a gorgeous maroon velvet gown, Bollywood actress Sunny Leone walked the red carpet at the screening of her film Kennedy in a flowy high-slit pastel gown. The actress was accompanied by Kennedy director Anurag Kashyap and her co-star Rahul Bhat as she made a dramatic entry. Sharing her pictures with her Instafam, the actress wrote, "The world premiere of #kennedy and I could not be more proud to represent Indian cinema. Such an amazing moment for myself and the entire team!"
On Thursday, May 25, Sunny Leone also treated her fans to a picture of herself with director Anurag Kashyap and co-star Rahul Bhat at the screening of Kennedy. Sharing the images, Sunny Leone wrote a note of gratitude to her director and co-star for being a part of "the proudest moment" of her career so far. Sunny Leone's heartfelt note read, "The proudest moment of my career so far! Thank you Anurag Kashyap for this moment! And Rahul Bhat for letting me share the screen with you in this amazing performance! Love you both!"
On Wednesday, May 24, night, the Jism star made her debut at the prestigious film festival in a maroon velvet gown. The actress completed her look by wearing minimal jewellery while keeping her hair open.
Before her red carpet moment, the actress in an interview with PTI, disclosed how she came about auditioning for Kennedy and eventually bagged the role. She said, "Ten people were sitting there. I gave the audition. The director said you are right for the role and then turned to all the others and asked what they felt. That was a real test." Sunny added.