By Mabel Pais
"Two of the best performances on Broadway.
Audra McDonald and Michael Shannon's chemistry burns up the stage"
The Daily Beast
 "Superb! As hilarious as it is touching"   – The Hollywood Reporter
Get swept off your feet at Terrence McNally's "Frankie and Johnny In The Clair De Lune."  It's one evening of theater you'll never forget!
 AUDRA MCDONALD, Tony (six-time), Grammy (two-time), and Emmy Award Winner and MICHAEL SHANNON Academy (two-time) Award Nominee star in the new Broadway production of Four-Time Tony Award Winner TERRENCE McNALLY's "FRANKIE AND JOHNNY IN THE CLAIR DE LUNE." The Play is directed by Obie Award winner ARIN ARBUS making her Broadway debut.
This new Broadway production of the play celebrates the artistic achievements of playwright Terrence McNally, recipient of the 2019 Tony Award for Lifetime Achievement in the Theatre, whose career spans six decades, director Arin Arbus in her Broadway debut, and stars Audra McDonald and Michael Shannon in their first collaboration.
The play is produced by Tom Kirdahy, Debbie Bisno and Hunter Arnold.  It is playing at the Broadhurst Theatre, 235 West 44th Street, on Broadway.
"Frankie and Johnny in the Clair de Lune" runs until Sunday, July 28, 2019.
Originally produced more than 30 years ago Off-Broadway, "Frankie and Johnny in the Clair de Lune" is one of McNally's most acclaimed plays and has now appeared on Broadway as the playwright celebrated his 80th birthday.  The play was a runaway hit from 1987 to 1989, returned to Broadway in a highly praised production in 2002 and was also turned into a feature film.
Audra McDonald and Michael Shannon two of the most acclaimed actors of their generation, bring new life to the bruised dreamers of Terrence McNally's timely and timeless romance. Director Arin Arbus directs this portrait of two lonely souls: a waitress and a short order cook who meet for a one-night-stand—but discover a connection deeper than they ever expected. Over a night filled with intimate thoughts and outlandish coincidences, meatloaf sandwiches and moonlit dreams, piano suites and the sweetest talk, they realize that making love is easy—falling in love is hard.
Aside from Claude Debussy's "Clair de Lune" music, we are treated to excerpts from Bach, Scriabin, Shostakovich and Wagner.
The creative team includes Riccardo Hernandez(Sets), Emily Rebholz (Costumes), Natasha Katz(Lighting), Nevin Steinberg (Sound), J. Jared Janas (Hair, Wig and Makeup), Laurie Goldfeder (Production Stage Manager) and 101 Productions, Ltd. (General Manager).
Category:  Broadway, Comedy/Drama, Play
Performance Time:  2 hrs. 15 min.
Closing Date: July 28, 2019
Venue:  Broadhurst Theater, 235 W 44th St.
For more information visit FrankieAndJohnnyBroadway.com
Follow on Facebook, Instagram, Twitter and YouTube at @FandJBway
Tickets are available at FrankieAndJohnnyBroadway.com or Telecharge.com at 212 239 6200.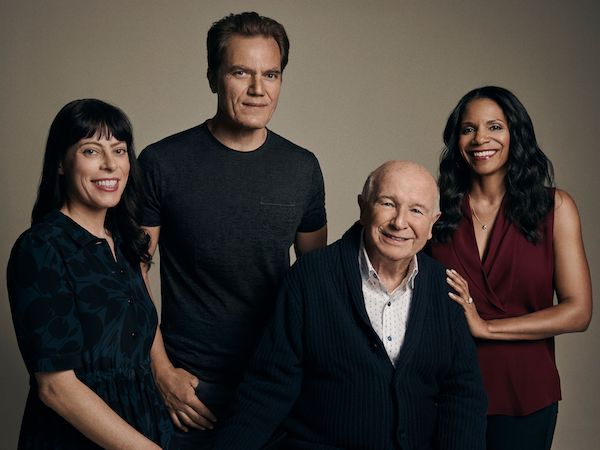 About Terrence McNally
"(Terrence [McNally] is able to get to the core of the human condition.)
I defy you to name another playwright who can do that" – Audra McDonald
 Terrence McNally, born November 3, 1938 at St. Petersburg, Florida, U.S.A, is an American playwright, librettist(writer of books for musicals), and screenwriter.  He grew up in Corpus Christi, Texas.  His career spans six decades. His works explore human relationships—frequently those of gay men—and are typically characterized by dark humor.
His parents, both from New York, liked Broadway shows and took him with them on occasional trips to New York, where Terrence saw his first musicals at age eight.
McNally knew from childhood that he was gay, started college at Columbia University before turning seventeen, and began his literary career early. He wrote and copy-edited for his high school newspaper. It was a high school English teacher who encouraged him to become a writer, and he never forgot her.
After graduation from Columbia in 1960, McNally worked as a newspaper reporter, became a tutor for the teenage sons of the American novelist John Steinbeckwhile the family traveled the world during the last days of ocean liners, and worked as a stage manager at The Actors Studio.
In 1965, he had his first Broadway play produced (and his first flop), "And Things That Go Bump in the Night," which featured an openly gay character. Undaunted, he proceeded to write a string of progressively more successful plays and musicals in an amazingly prolific career that's well into its sixth decade.
His three dozen plays included "Bad Habits" (produced 1971), "The Ritz" (originally produced as "The Tubs," 1973; film 1976), and "Frankie and Johnny in the Claire de Lune" (produced 1987; film 1991) "The Lisbon Traviata" (1989). In 1995 McNally won a Tony Awardfor best play, for "Love! Valour! Compassion!" (film 1997), and "Master Class" (1995) one of several works he wrote aboutopera. Among his later plays were Deuce, which opened on Broadwayin 2007, and "Golden Age," which followed in 2012.
In his play "Mothers and Sons" (2014), McNally examined a mother coming to terms with her late son's homosexuality and with society's evolving understanding of what constitutesa family. "Fire and Air" (2018) is about the "Ballets Russes"and founder Serge Diaghilev's relationship with "Vaslav Nijinsky."
The dozen musicals for which McNally wrote the libretto include "Kiss of the Spider Woman" (1992) and "Ragtime" (1996). His corpus of work also includes several opera librettos and movie screenplays.
McNally's librettos for "Kiss of the Spider Woman" and "Ragtime" won him Tony Awardsin 1993 and 1998, respectively. Additional credits as a librettist included "The Full Monty" (produced 2000), "Catch Me if You Can" (produced 2011), and "The Visit" (produced 2001). He earned an additional Tony nomination for a 2015 revival of the latter musical.In 2019, he received a Tony for lifetime achievement.
 Doc on McNally's Life, LGBTQ Activism
As part of the many events in New York City to commemorate the 50th Anniversary of the Stonewall Uprising, Pride and Resistance of the LGBTQ Community, PBS aired the new documentary: American Masters – "Terrence McNally: Every Act of Life." The series premiered nationwide on June 14 on PBS, pbs.org/americanmasters and the PBS Video app in honor of LGBT Pride Month.
"Every Act of Life" lifts the curtain on the life, career and inspirations of the complicated and brilliant Emmy-and-four-time Tony Award-winning McNally, explores past productions of Frankie and Johnny in the Clair de Lune and features original interviews with Terrence McNally and Audra McDonald.
In the documentary, McNally speaks plainly about his relationships with his lovers, beginning with Edward Albee, who was writing "Who's Afraid of Virginia Woolf?" when they met, and moving on to a serious romantic affair with the late playwright Wendy Wasserstein. He is married to theater producer Tom Kirdahy.
Having survived grueling treatment for lung cancer, McNally is currently working on three plays. How fortunate for him, and for us, that he disregarded Steinbeck's heartfelt suggestion: "Don't become a playwright. It'll break your heart."
McNally's brother Peter is interviewed in depth in the film and offers thoughtful words about their childhood. The many show biz talking heads, including Audra McDonald, F. Murray Abraham, Christine Baranski, Tyne Daly, Nathan Lane, and Billy Porter, all have fascinating stories to tell. "Every Act of Life" is available as a DVD.
The Actors Studiowhere McNally worked as a stage manager, is the prestigious professional actors' workshop in New York Citywhose members have been among the most influential performers in American theatre and film since World War II.  It was founded in New York City in 1947 by directors Cheryl Crawford, Elia Kazan, and Robert Lewis. It is one of the leading centers for the Stanislavsky methodof dramatic training.
For more information on The Actors Studio, visit theactorsstudio.org.
(Mabel Pais writes on the Arts and Entertainment, Social Issues, Spirituality, and Health & Wellness.
She can be reached at mabelep1406@gmail.com)